by Markus Müller-Simhofer on October 01, 2020
MindNode Fall 2020 Updates
Last November, I updated you on our plans for MindNode 7 and our switch to a subscription business model. This transition is now almost complete. Today, I'd like to give you a brief look back at the past few months and an update on our plans for upcoming releases.
MindNode 7.0, 7.1, 7.2, and 7.3
One of the motivating factors which helped us decide to switch to subscriptions was that it would allow us to ship updates more regularly. Instead of holding back features for major releases, we can ship them once they are ready. This is what we have achieved by delivering new features every other month. This year we have shipped Visual Tags, new Node Shapes (borderless main nodes; embedded, hexagonal and octagonal styles), Image Positioning within nodes, new Siri Shortcuts, and full Pointer support on iPad.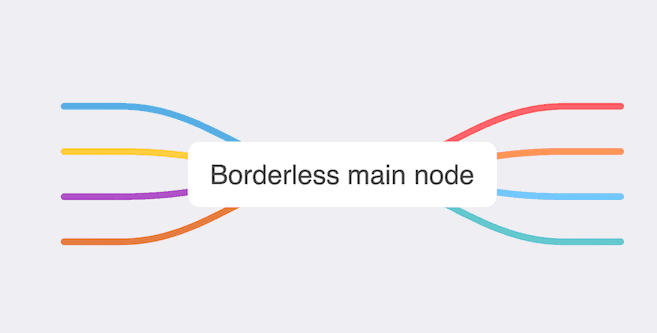 If you haven't already, give MindNode a try on a Magic Keyboard. We have continually improved our integration, and you can now also use gestures like Shift + Drag on a node to create a cross-connection.
New Version Numbers
We noticed over the course of this year that our current release versioning scheme no longer fits our new development cycle: We no longer want to ship major updates; instead, we want to focus on regular, incremental improvements. With this weeks' update, we are switching to a year-based version number. Going forward, our release numbers will be comprised of the current year, followed by the release number.
2020.5 – Widgets on Your Home Screen
Yesterday, we shipped our iOS 14 and iPadOS 14 update. This release adds a Widget that you can add to your Home Screen or Notification Center. Our Widget comes in three sizes:
a small Widget that allows you to pin a single document on your Home Screen
a medium Widget that lets you access two pinned documents, and buttons to start a new document or launch Quick Entry
a large Widget that has the same features as the medium Widget, but also lists Recent Documents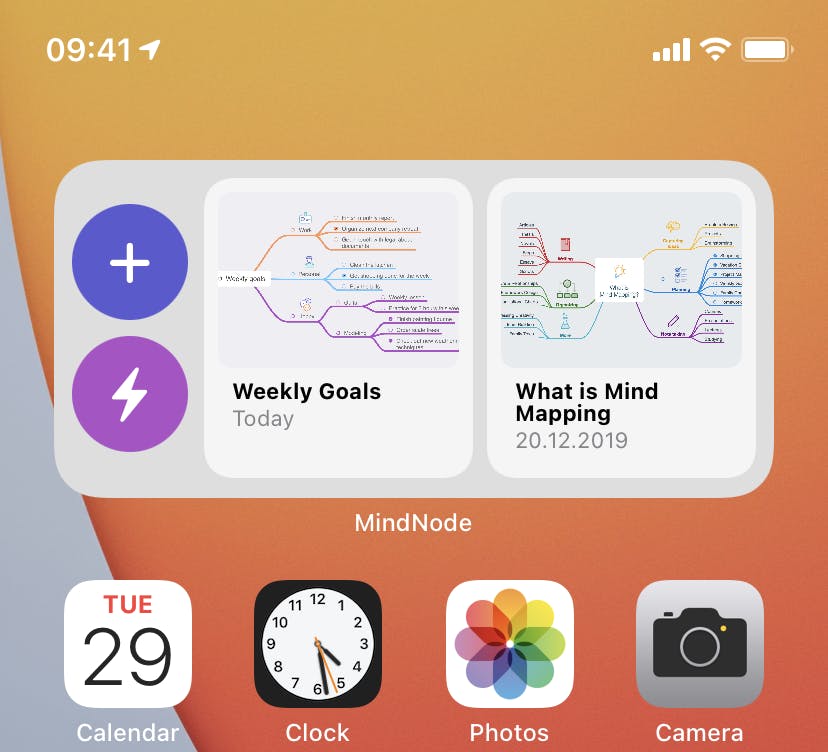 Additionally, we have now adopted two new system pickers. The new iOS 14 photo picker gives you access to your full photo library and has the same albums, events, and lists as Photos app. We also adopted the system font picker, which was added to iOS last year. It enables you to access your custom-installed fonts and use them in MindNode documents.
Finally, we also adopted several new iPadOS features, including Scribble support and support for the new context menu.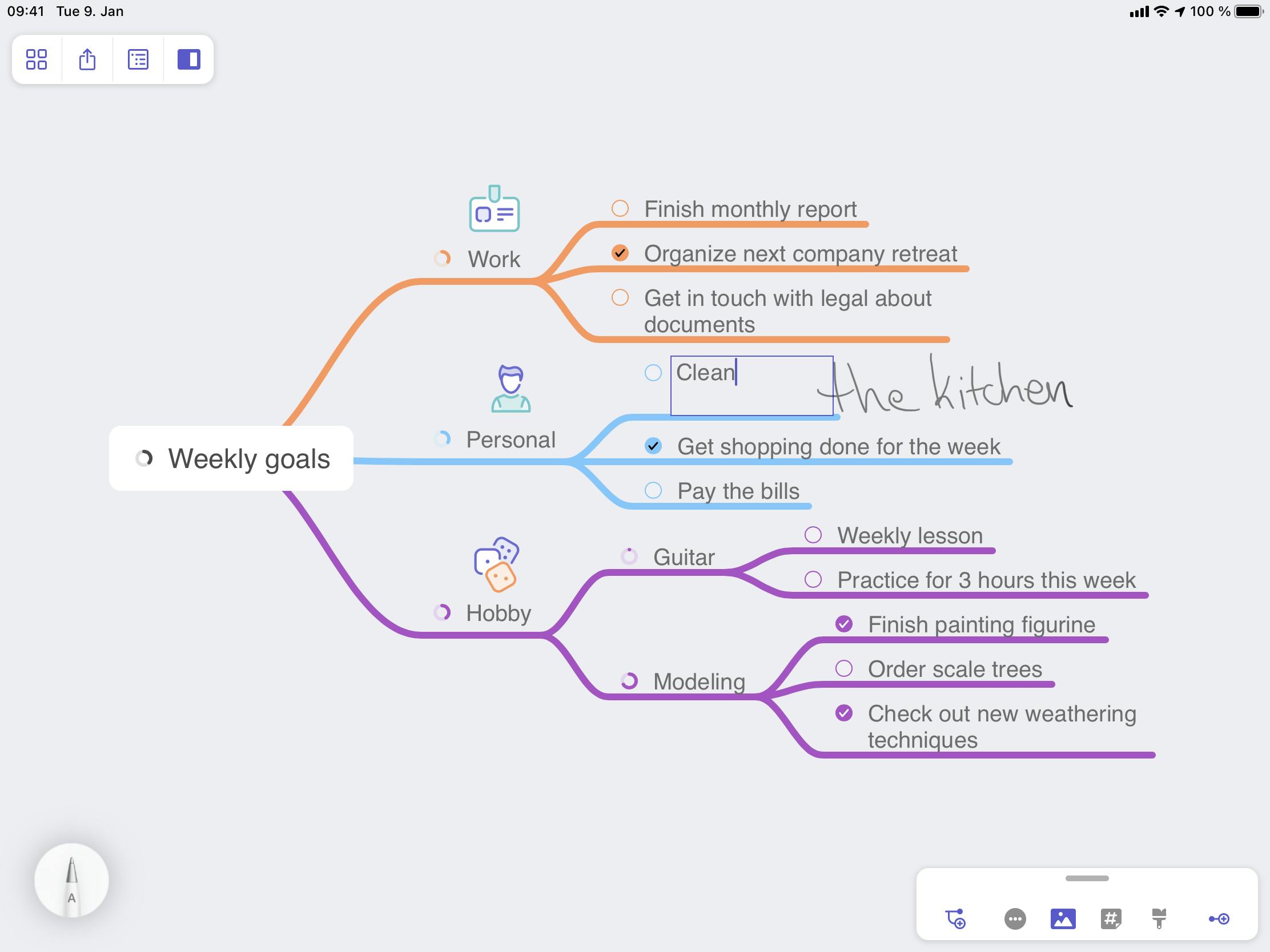 2020.6 – Big Sur and Apple Silicon
Apple announced big plans for the Mac last June, and with our 2020.6 release, we will optimize MindNode for macOS 11. We have carefully updated MindNode to adopt the new user interface, refreshed our Mac icon, and will also bring our Widget to the Mac. Throughout the summer, we have also been busy porting MindNode to Apple Silicon, and we will be ready when the first new Macs arrive.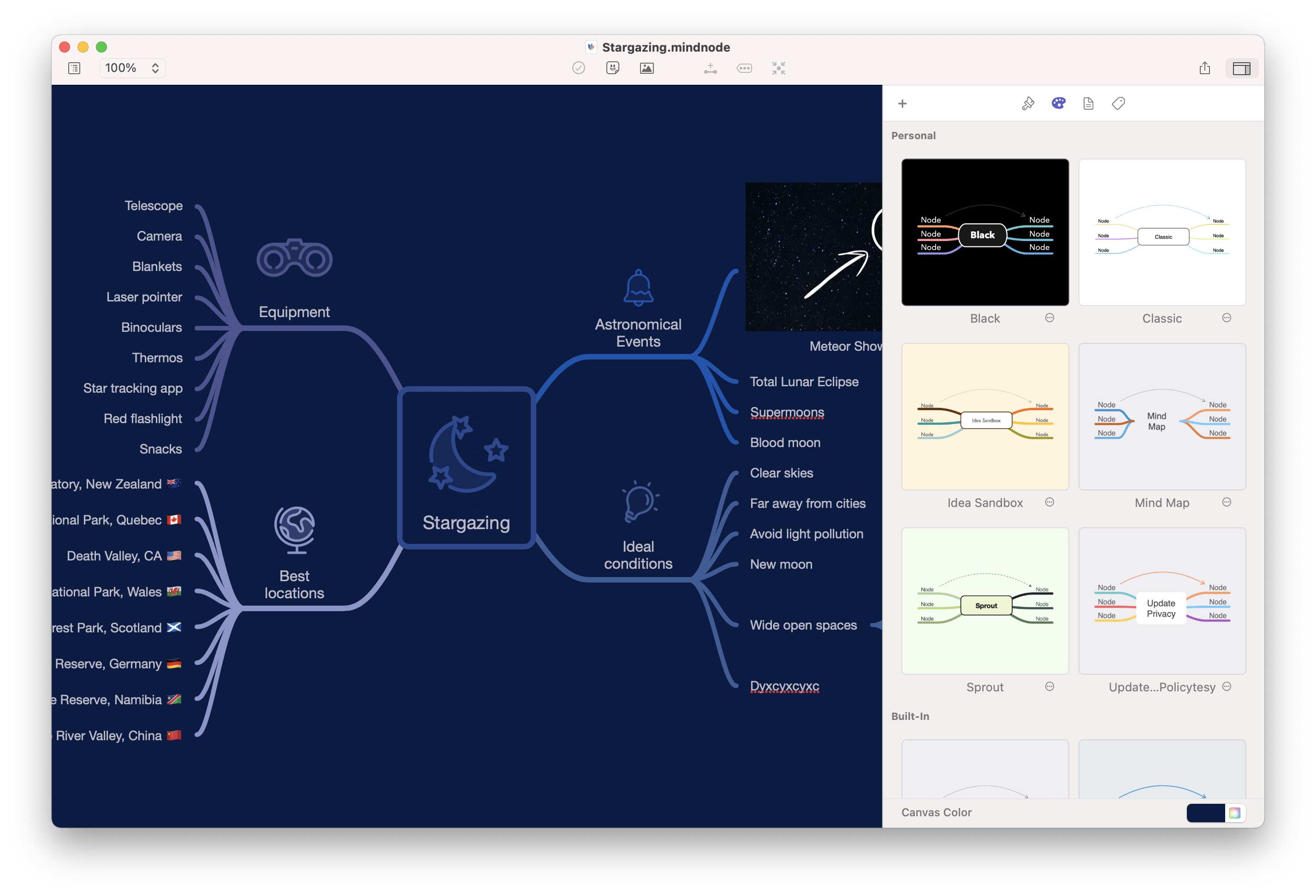 2020.7 – Create an Outline of Your Ideas
At the end of this year, we will add one of our most frequently requested features to MindNode. It's a feature we have been working on for almost a year now, and I can't wait to share more details once we have locked in the final design.
All of the features and enhancements in our 2020.5 and 2020.6 updates will be free for all existing MindNode 5-7 customers. Starting with 2020.7, new features will be exclusively available to our MindNode Plus subscribers. Enhancements and bug fixes will continue to be free to all existing customers.