by Gregory Bondaruk on October 02, 2019
Multi-Document, Dark Mode and more – MindNode for iPadOS 13
It's that time of the year again when many of us are updating our iPads & iPhones to the newest version of iOS. While most of the attention is usually given to the new system features Apple has created, developers are also excited to take advantage of new tools and features they can integrate into their apps. And we're no exception. We've been working hard the past three months to make sure MindNode users can benefit from and enjoy what iPadOS and iOS 13 has to offer. Here's what we've been able to create for MindNode 6.1.
Multiple Documents (iPadOS only)
Multi-tasking has been a slowly evolving feature of iOS. Starting with being able to have apps running background processes and to the unveiling of a split-screen multitasking mode two years ago. This year the next step is the arrival of having multiple documents open simultaneously from a single app. What this means for you is that now you'll be able to have MindNode open in multiple spaces on your iPad, enabling you to work on multiple mind maps simultaneously.
Dark Mode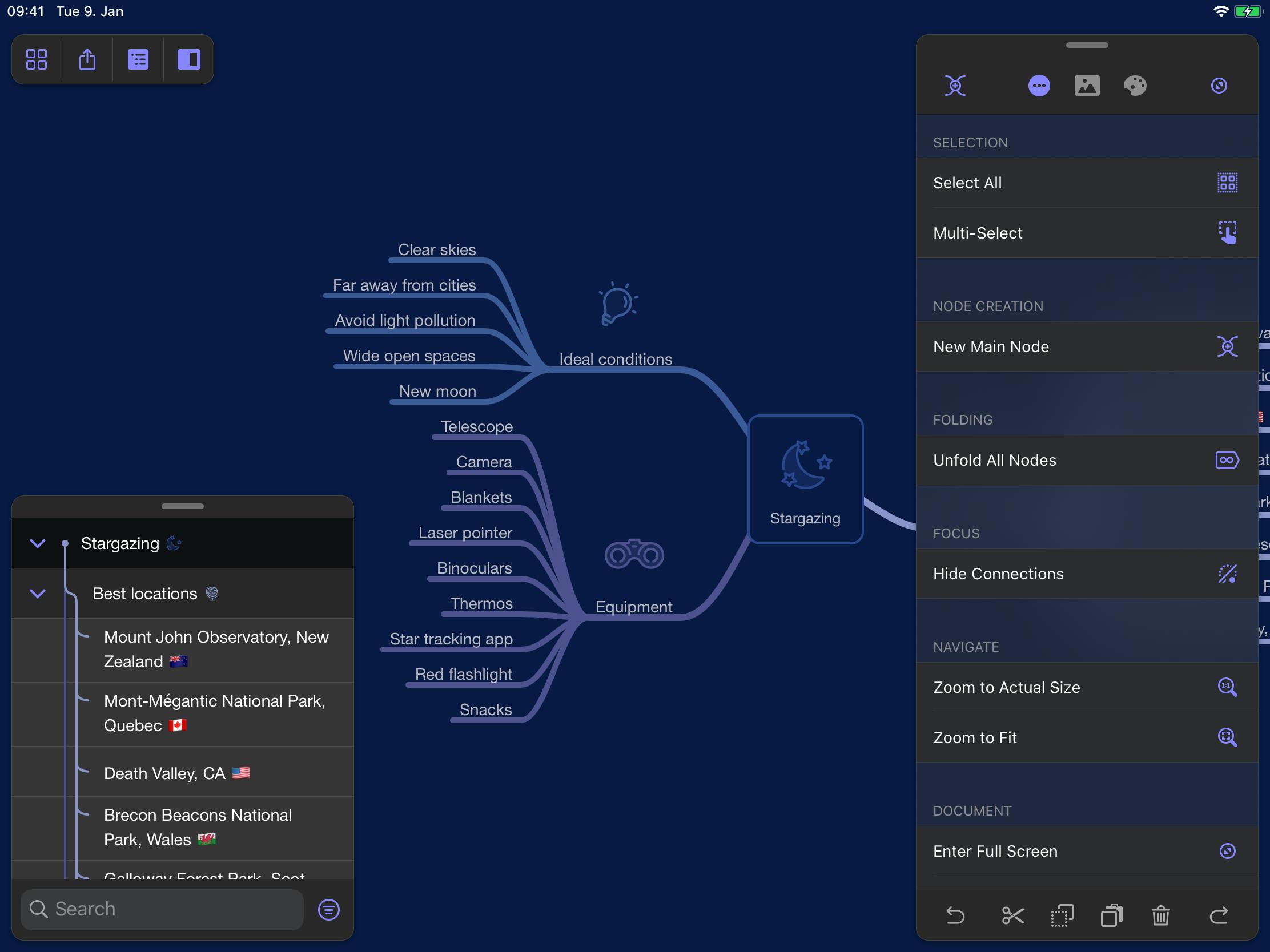 MindNode users will know we've had support for Dark Mode for a while now. However with iPadOS 13 there's a subtle change in how it works - thanks to systemwide support for Dark Mode. Now you can have Dark Mode active when your iPhone or iPad goes dark, based on the time of day or your system settings, or you can have MindNode's appearance adapt to the theme of your mind map.
Quick Entry Drafts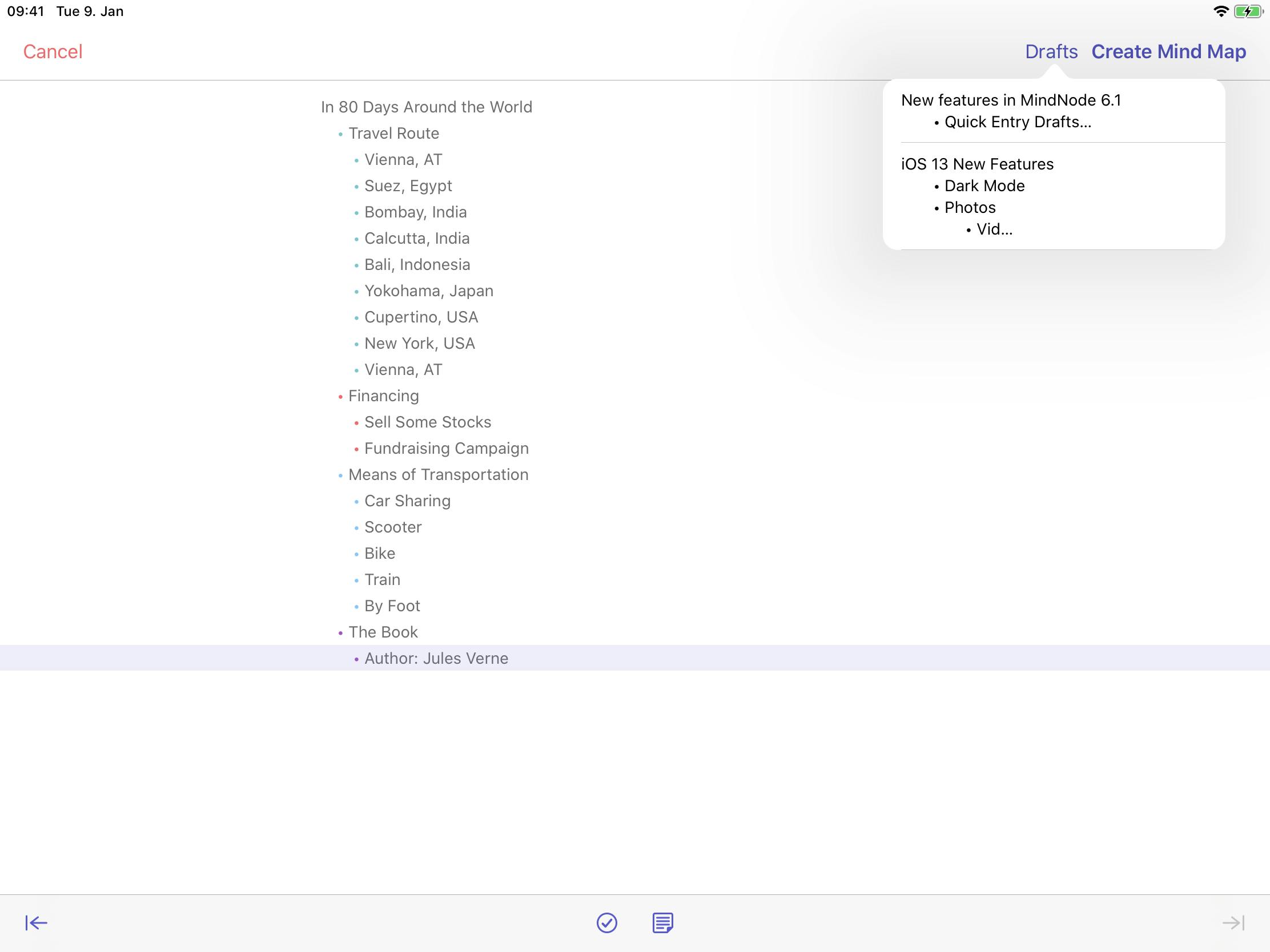 Quick Entry is an easy way to jot down your thoughts in an outline format and instantly transform them into a mind map. With MindNode 6.1 we've added the possibility to save your Quick Entries as drafts, so that you can keep working on them until you're ready to send them to your canvas. Quick Entry Drafts will be coming to our macOS version soon in an upcoming update.
Siri Shortcuts Parameters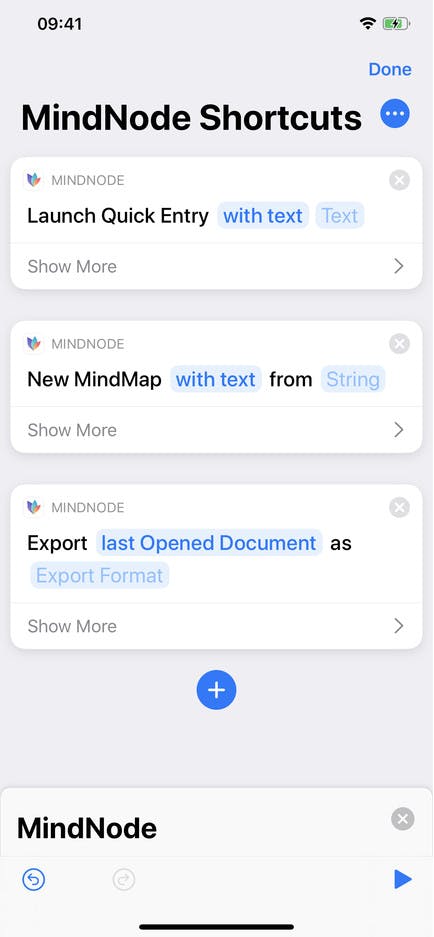 Siri Shortcuts is an easy way to automate tasks that you regularly perform by asking Siri to do them. These tasks can be something Siri learns about your behavior, or workflows you create on your own. With iOS 13 Siri Shortcuts have become even more powerful, by allowing users to add parameters to their shortcuts. What this means is that you can now tell Siri to open a new MindNode document with a title, some text, or the current date already filled in.
Try a shortcut out for yourself!
To start add the Export Document action from MindNode's shortcuts
Change the parameters to last opened document
Choose the file format you need. Make sure that the export goes to Clipboard
Add the Get Clipboard action from the Sharing shortcuts
Next add the Send Email action from the Mail app shortcuts and change the parameters to send Clipboard to your team's email addresses and enter your subject.
Make sure that the last opened document in MindNode is the one you want to share before you start the shortcut!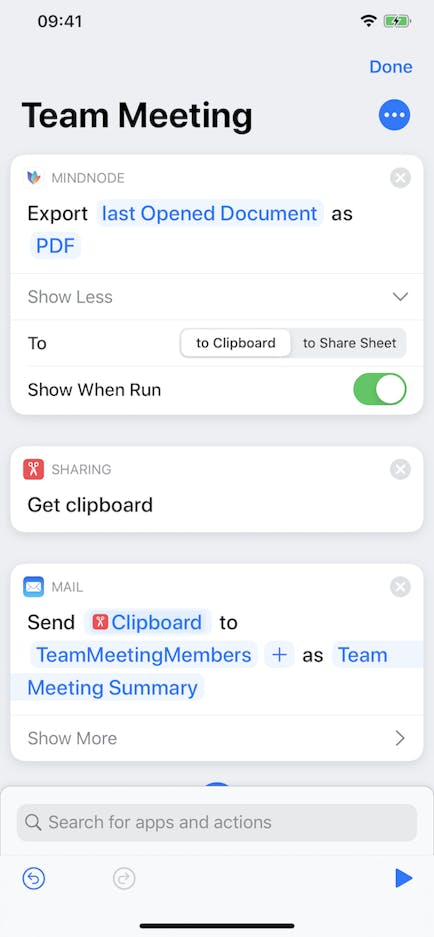 Annotate Images & Add Drawings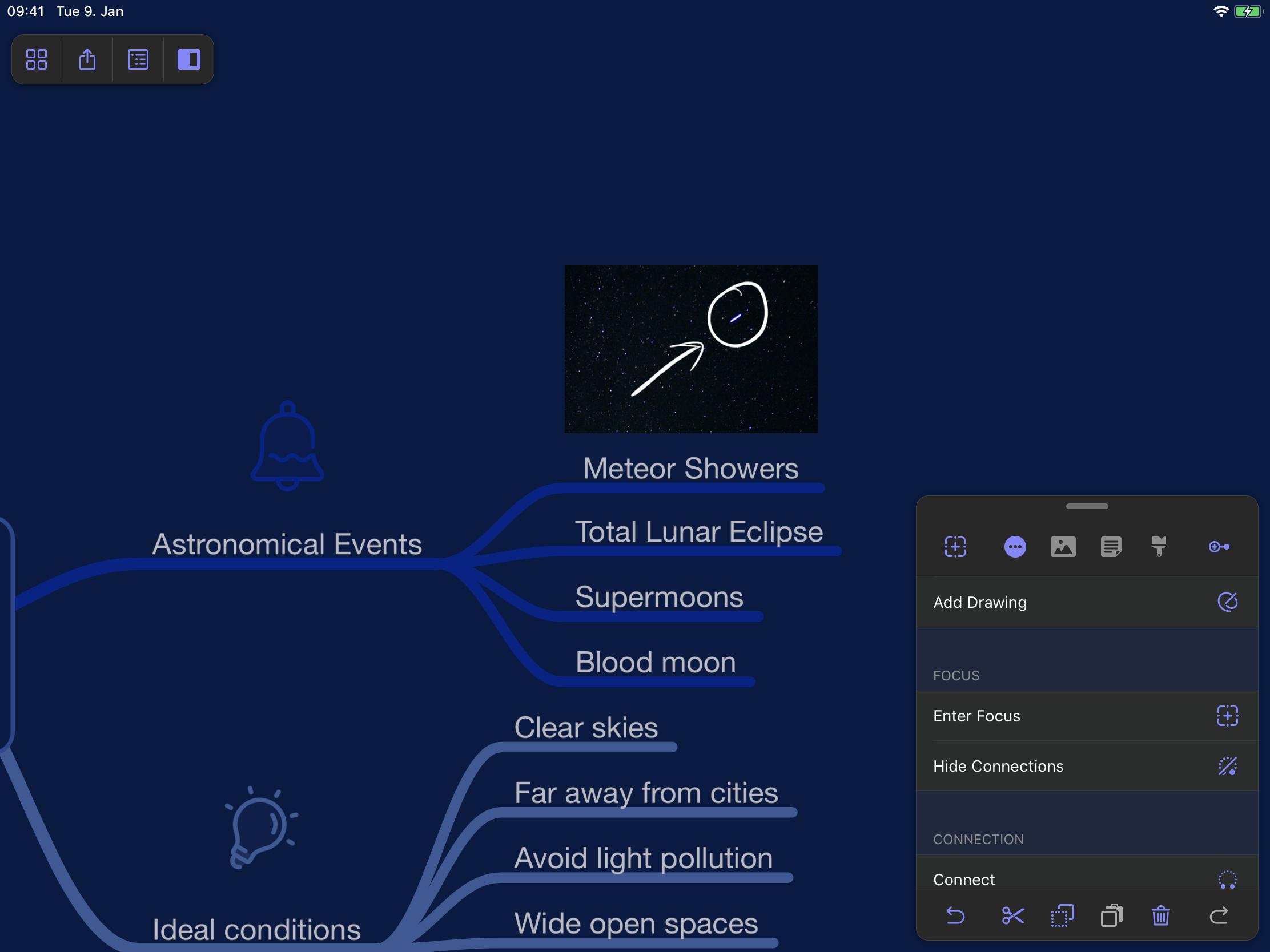 With iOS 13 Apple also greatly improved support for Apple Pencil and annotations in general. MindNode 6.1 takes advantage of this in two different places.
You can now add drawings and annotate images directly in MindNode. In annotation mode, you can easily scribble a few comments on your attached images, quickly draw a supply and demand graph for your economics class notes, or start sketching your next backyard project.
The second improvement is related to screenshots. When you take a screenshot using the Top/Side button and Volume-up button combination you can now get a screenshot of the entire mind map. Annotating and sharing a mind map has never been easier.
Further Enhancements
While we were getting these iPadOS & iOS 13 features baked into MindNode 6.1 we also were busy squashing bugs, fine-tuning existing features and adding a few others as well. Check out our full release notes for more details.