Using TextBundle with MindNode
For some time now, MindNode had the ability to import documents from, and export documents to Markdown, which is a simple format to share text with formatting. A limitation of Markdown is that, while you can reference images, you can't actually include them in the file. This is where TextBundle comes in handy, a format MindNode is now able to import and export.
TextBundle is a Markdown format that bundles images with the text. Any app that can read this particular Markdown version, now also has access to the images that come with the text. This allows you to easily transfer your mind map to Ulysses, for example. You can flesh out what has, essentially, become an outline, into a full text.
When you look at the export dialog, accessed through the File menu on macOS, you can select to export your document as text. Here you have multiple options such as Markdown, Plaintext and Word document. Once you select Markdown you get the option to include images as well. This will automatically create a TextBundle file instead of a Markdown file.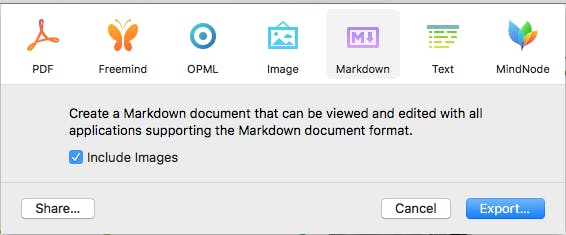 On iOS you access the export options from the Share menu. Here Markdown and TextBundle are separate options. In fact, since we want to save images along with the text file we use the compressed format TextPack. You can find it at the bottom of the format selection.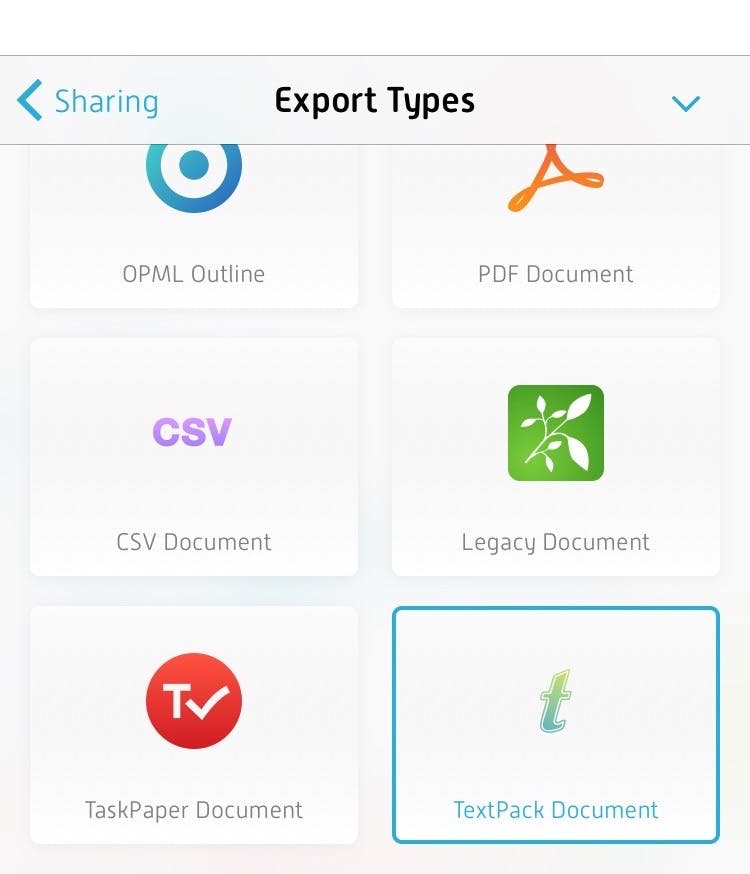 In the world of sandboxing, where access needs to be given on a case by case basis, bundling all the files you need for one project with different apps makes life just that much easier.
You can find the complete list of apps that use TextBundle on the TextBundle.org page.
And in case you are wondering; here is a whole list of the formats that you can export from MindNode:
- FreeMind: supported by most mind mapping apps
- OPML: supported by most Outliners and many mind mapping apps, does not apply formatting
- CSV: supported by spreadsheet apps
- Plain Text: supported by all text editors, no formatting
- RTF: supported by most text editors, includes formatting
- Markdown: for Markdown editors, converts easily to HTML
- TextBundle & TextPack
- Single File MindNode: supported by MindNode and makes it easier to save files to sharing and note-taking services
- Docx: supported by Microsoft Office and many Wordprocessers (only supported on macOS)
- PNG: image format
- PDF­: vector-based, so scales very well when enlarged
Image (modified): Lisa Nottingham under CC-license