by Markus Müller-Simhofer on October 18, 2018
MindNode 5.2 - Dark Mode, Continuity Camera, Siri Shortcuts, and More
Today we released MindNode 5.2 for macOS and iOS. This update adds Dark Mode, Continuity Camera, a resizable outline, and improved automation including Siri Shortcuts. You can get this update on the App Store now.
Dark Mode - Focus On Your Ideas
You may have noticed that we are supporting a dark interface on iOS for quite some time now. When you switch to a dark theme on iOS, MindNode's UI automatically turns dark. With macOS Mojave and the system-wide Dark Mode, we are now also supporting Dark Mode on the Mac.
In MindNode's preferences you can decide whether you want to adopt the system's default appearance or configure MindNode's appearance for yourself.
Improved Sidebar – See Everything You Want To See
Since earlier this year we had the ability to resize the Notes sidebar. Today we are bringing the same feature to the outline in MindNode for Mac. If you have a large screen (or even if you don't), you can now give the outline a lot more space to see all your ideas at a glance.
When we updated the sidebars to support dark mode and resizing, we also took the time to refresh the overall design. In MindNode 5.2 we carefully updated the layout to use headers and we moved outline search to the bottom of the view. This gives the window a more balanced look.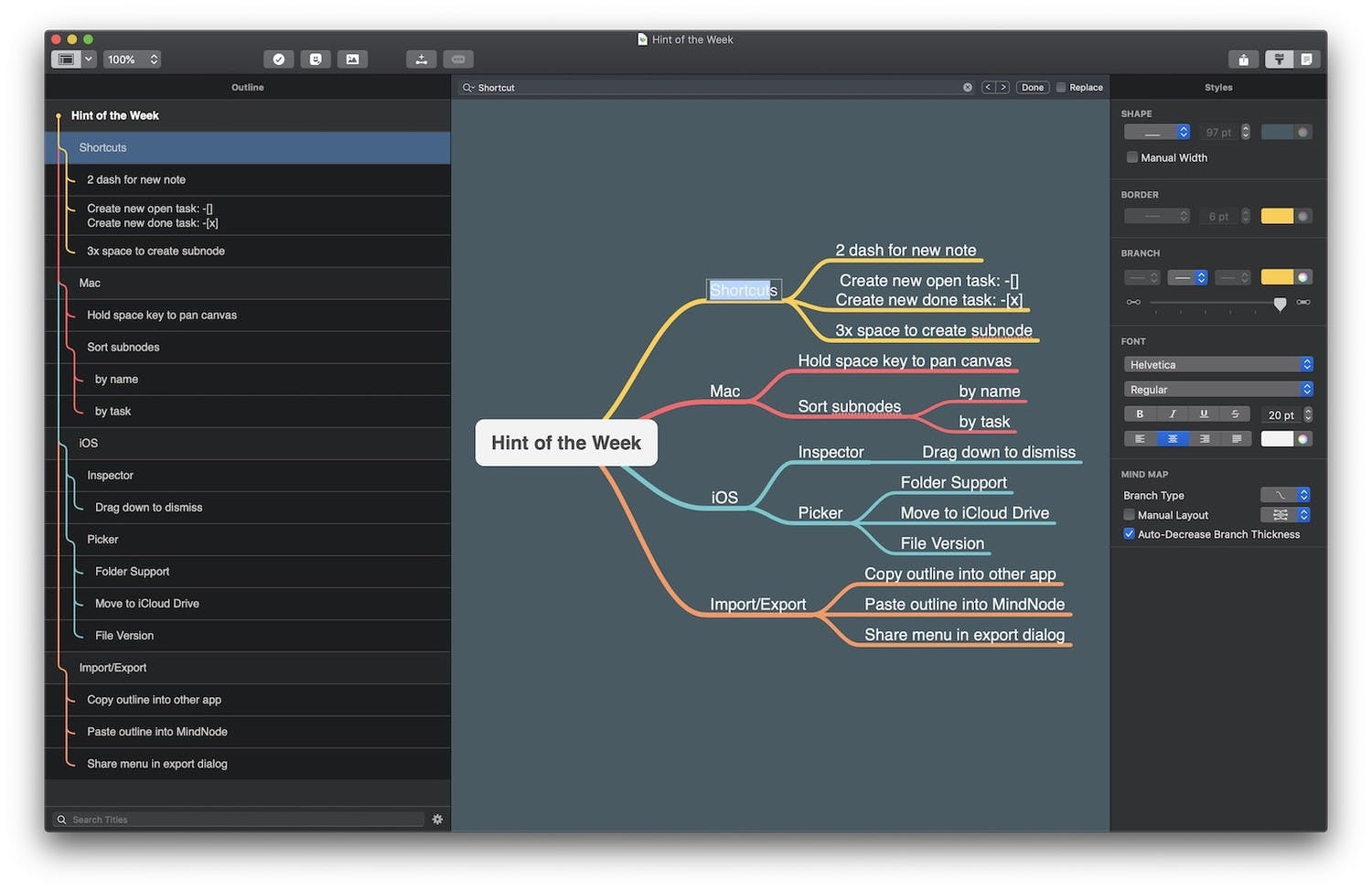 Continuity Camera - Adding Images Just Got Easier
One easy to overlook, but really neat feature in macOS Mojave is Continuity Camera. With this feature you can use your iPhone or iPad to scan document or take a photo. This feature is now also available in MindNode. If you take notes during presentations this is a great way to snap a photo of a slide and put it right into a node. Or if you use MindNode to learn for your exam, you can scan the pages of a book to store it with your notes.
Automation and Siri Shortcuts - Tie It All Together
One significant new feature in iOS 12 is the integration of Siri Shortcuts. They allow to trigger actions using a Siri phrase and to build complex workflows using Apple's Shortcuts app. MindNode 5.2 adds the ability to launch Quick Entry; open, export and import documents using Siri Shortcuts.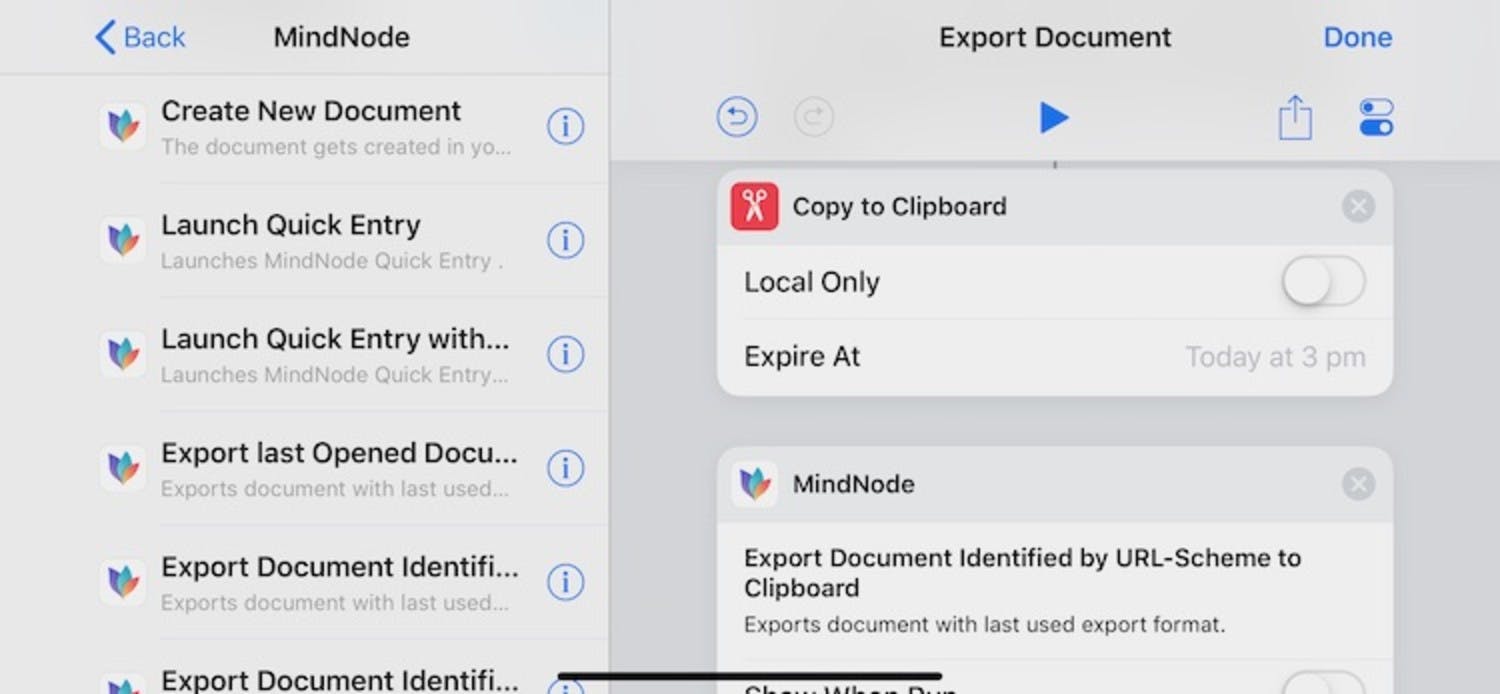 This enables you to build workflows which export a document in MindNode and send it to iMessage for example - all by just using your voice.
To go beyond shortcuts, we also made these actions available via URL Schemes on both - iOS and macOS. This is only the beginning and we hope to add many more automation actions in the future. So please let us know what you want to build! You can learn more about URL Schemes in our User Guide.
Other Enhancements – There Is Even More
This release includes many other enhancements, including custom app icons on iOS, new stickers (Apple, Cake, Clock, Pie, Tree), and a new dark mode optimizes theme Steel). You can learn all about MindNode 5.2 in our Release Notes:
MindNode 5.2 is available for iOS 11 and later as well as macOS High Sierra and later. With this release, we are no longer supporting macOS Sierra.