by Paula on November 28, 2017
MindNode 5 – It Starts With a Thought
It is my pleasure to introduce MindNode 5 to you today.
An optician once told my dad about the new expensive glasses he was sporting, "Don't worry if nobody notices your new glasses, it just means that they suit you perfectly."
We've rethought every part of our app to make it more intuitive to use. We hope that you will find the new UI that MindNode sports as invisible as my dad's new glasses.
Connect your thoughts and clarify your ideas.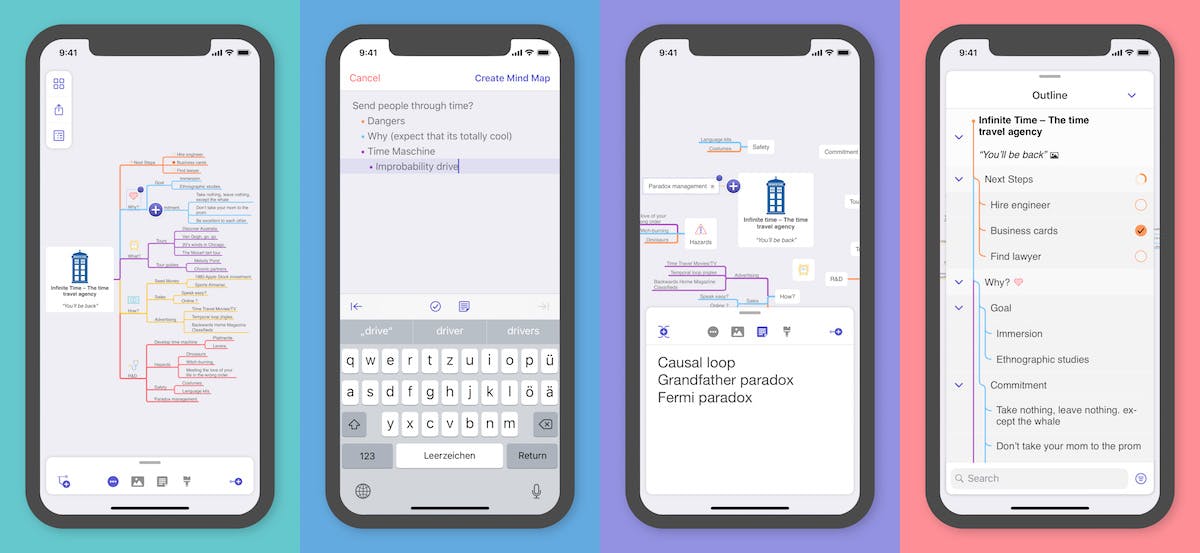 We started MindNode 10 years ago, the same year that Apple released their first iPhone. With the iPhone X Apple has completely rethought their design and with MindNode 5 we're doing just the same.
Rather than fudging the existing design to work on the iPhone X, MindNode 5 on iOS uses floating panels. They always show the most relevant actions, and are particularly adapted to this iPhone. Collapsed panels allow easy access to important shortcuts. Expanded panels host inspector, outline and the all new actions panel. The actions panel gives access to new and relevant actions like "Sort Subnodes Alphabetically", "Zoom to Fit", and "Add new parent node".
Similarly we've adapted the user experience on the Mac. We've taken a step back from hiding all of our tools in an Inspector and to give you the most frequent actions right in the toolbar. A new left sidebar hosts the outline and the new theme picker. Power users can now choose their own set of tools for the toolbar and keep Notes and Outline open at the same time.
With this release MindNode is moving past being just a mind mapping app into something more. We've listened to what you've said about how you use MindNode and we've found it's a "visual brainstorming" app, more than just a mind mapper. This release is all about making that visual brainstorming as easy as possible. In terms of priorities it means we stuck to a focused feature set and a clean interface.
Nobody wants to spend hours learning how to get their thoughts on the page. We don't want you to be distracted by dozens of adjustment options. Instead we make sure your document looks great, while you make sure the content is amazing.
Join us on a tour of MindNode 5:
Capture Your Thoughts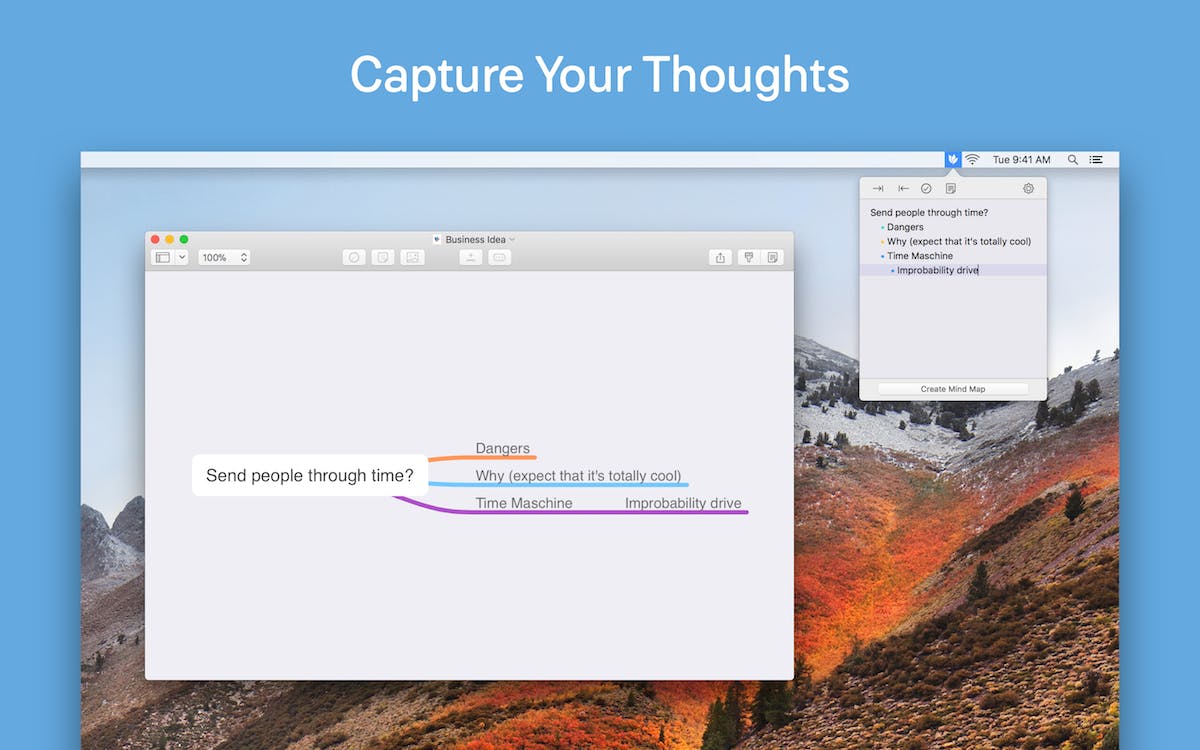 Our big new feature for the beginning of your thought process is Quick Entry. You might want to start out just laying down a few keywords for your document. The menu bar widget on the Mac and the Today Widget on iOS let's you do just that. Each new line is a new entry. And when you are done, you click a button and a new document is created automatically.
Any idea starts with a loose collection of thoughts. MindNode makes it easy to get them into one document. On iOS we've made the leap to iOS 11 only, so we can take advantage of the new features, like Drag and Drop from other apps.
MindNode's Smart Layout feature has always made sure your document is readable and beautiful. This is now clearly the default; you can disable it by checking "Manual Layout" in the layout panel. So you don't have to worry about layout when you are just getting your thoughts down.
Explore the Connections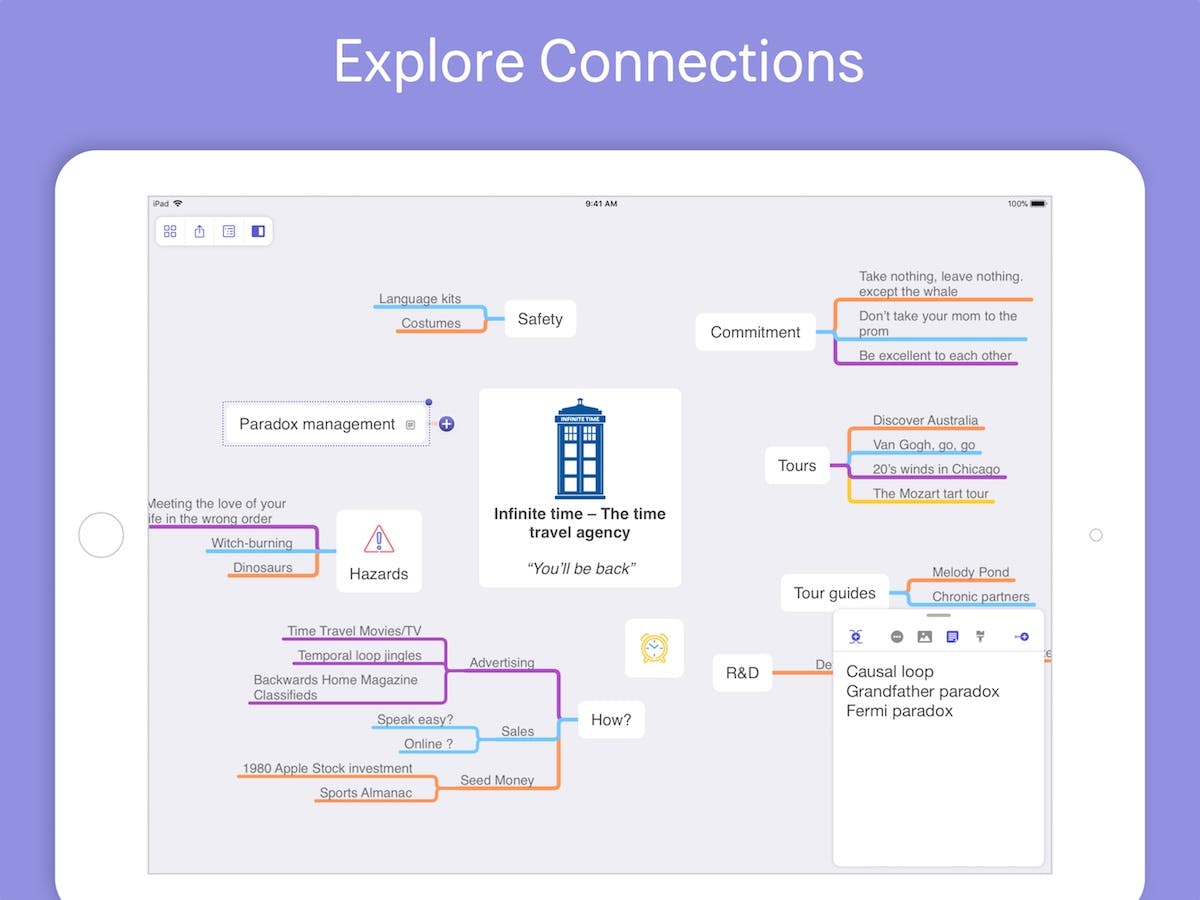 Only when we start making connections do thoughts become ideas. MindNode gives you the space to easily configure and reconfigure the relationships between different thoughts.
We've added several improvements to these features and made it easy to trigger them using the actions panel and new keyboard shortcuts. Shortcuts also work in the new iOS full screen mode, that allows you to focus on your ideas even more.
Organize your Idea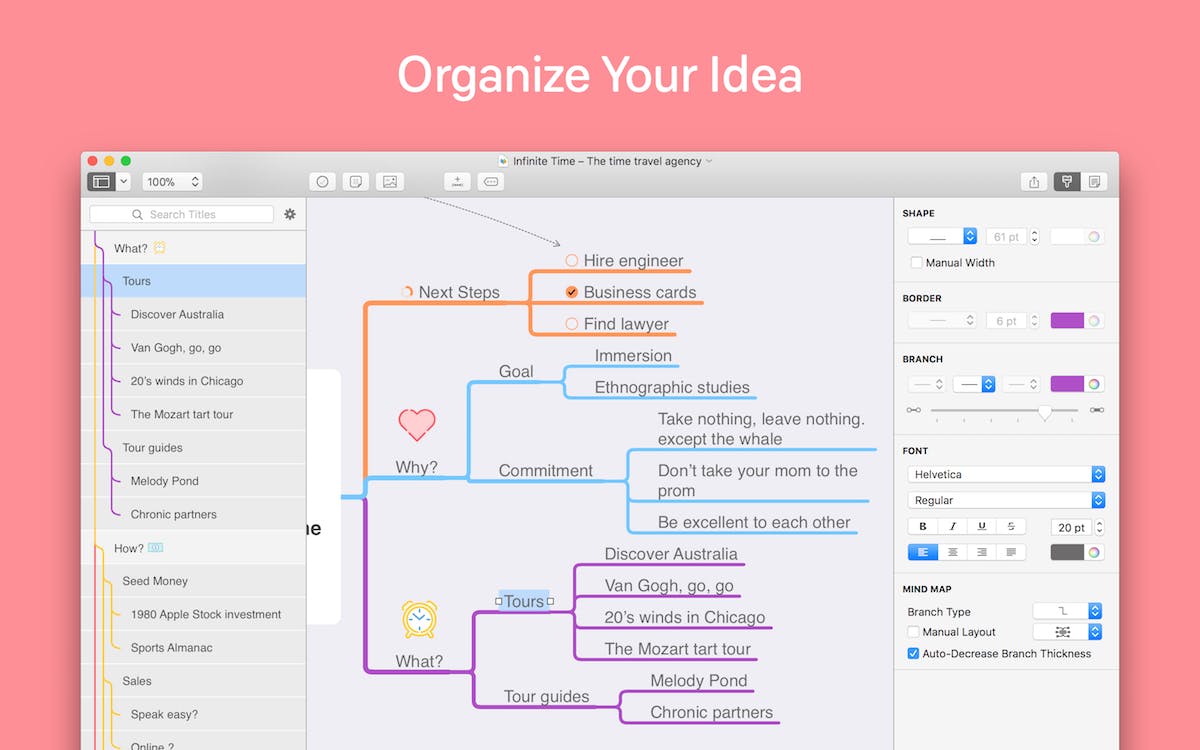 MindNode helps clarify the context and connections from one thought to another. Add individual styles to text and nodes to understand complex information at a glance. We are adding top-down layout and orthogonal branches, our most requested features. A brand new color picker on iOS gives you access to more colors than ever before and makes it easier to find related colors.
Many additional tweaks, like unlimited personal themes and redesigned stickers, allow you to create even more beautiful and expressive documents.
With the outline view you can easily browse through even the largest document. Expand or collapse what you need and search your entire document. It now always displays the entire title and you can select to view your notes inline. We also improved search to show all results in a node.
Share your Project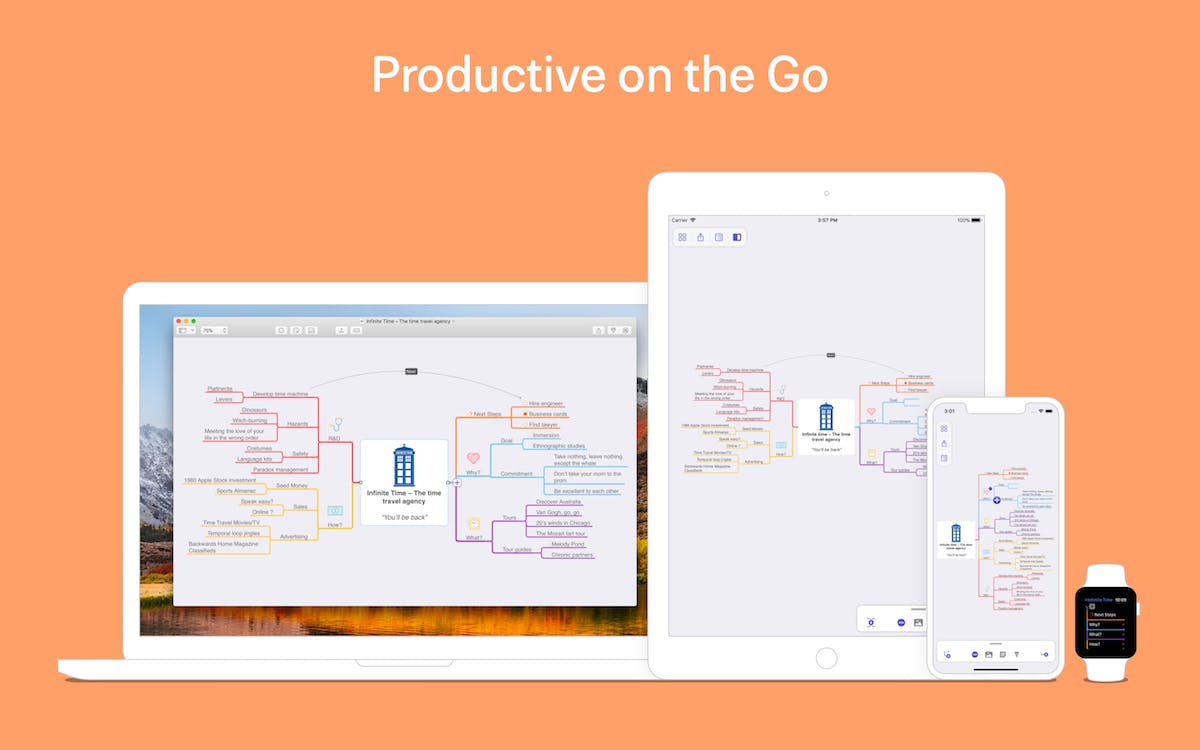 Present or export your document. Publicly share interactive documents via our myMindNode service. Whoever you send them to can explore your ideas without having to install anything.
On iOS 11 we adopted the new document manager. Open documents stored anywhere in iCloud Drive, create nested folders, and easily access documents from supported third party document providers like Box or Google Drive.
Download
System Requirements
- MindNode 5 for Mac: macOS Sierra, or newer
- MindNode 5 for iOS: iOS 11, or newer
- MindNode 5 for Apple Watch: watchOS 4, or newer
MindNode is localised to Arabic, English, German, Spanish, French, Italian, Japanese, Korean, Dutch, Portuguese, Russian, Swedish and Simplified-Chinese.
Release Notes