by Gregory Bondaruk on March 21, 2022
Hi Mislav, tell us a little bit about yourself
I was born in Zagreb, Croatia but spent my childhood in a beautiful and charming city called Samobor, famous for its Carnival and a very fluffy cake called Samoborska Kremšnita. My high school years were spent in the capital city (and in the bus on the way there and back) where I would sit in a classroom from 8 in the morning until 2 or 3 PM learning the typical stuff like math, history, or latin and then would take a walk for a block or two to my music school where I would spend the rest of the day learning, practicing and rehearsing music, usually until 10 in the evening. That meant I would be home by 11 PM and repeat it the next day all over again. At the age of 17 I passed the entrance exam for Academy of Music ,and when I turned 20 I moved to Vienna to continue my studies. Now, it's been already 7 years that I am enjoying this beautiful and windy city.
What do you do at MindNode?
I use the majority of my time here at IdeasOnCanvas to communicate with our users, and present their needs and wishes to the rest of the crew. Basically, if you have an issue with MindNode, or a request for anything to be added or changed in the app, you first have to go through me. Besides that, my latest project is co-creating the new version of MindNode's user guide.
What do you do outside of MindNode?
I am actually a musician. I studied violoncello and chamber music at Music Academy in Zagreb and University for Music and Performing Arts Vienna. Just last month you could have heard me play in the legendary Musikverein, where I'll perform again in April this year. You can always find me on Instagram under @KingsString, where I'm publishing music related content. When I'm not practicing, playing, writing, filming, or editing music, in my spare time I like painting as well as playing video games. Painting is something I started a few years ago as a way to put some of my thoughts in a different perspective but games on the other hand, I grew up with. After a long practice session, there is nothing more satisfying than to hop on to my gaming console and slay some monsters in Doom or have a nice and peaceful stroll around the island in The Witness trying to solve some puzzles.
How do you start your day?
I do not have a fixed routine that I am following every day but usually I wake up at 7:30, take a walk, exercise, write a short journal to reflect on the last 24 hours, and plan out the day. I will then typically start either with cello practice or dealing with the MindNode's support inbox. This would be followed by either writing or recording music.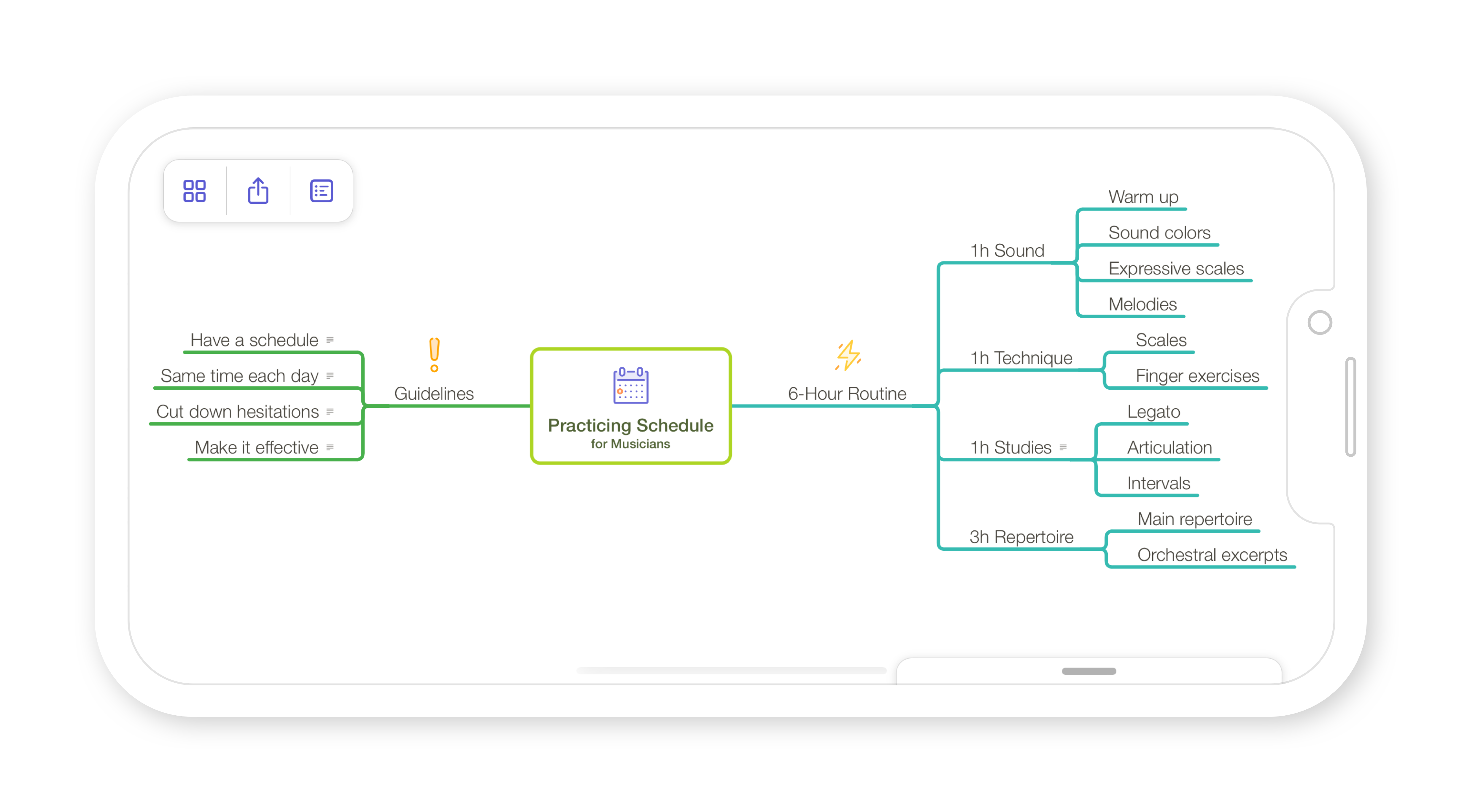 How do you spend your vacation?
I am more of a summer person. I take my vacation when the days are long and hot and spend it on Croatian coast swimming and grilling. However, lately I got a strong desire to learn how to ski and enjoy Austrian mountain tops. Slashing through the snow at high speeds with a gorgeous view over the nature seems very exciting too.
How do you mind map?
I use MindNode for a lot of things. One of them is keeping track of my student's progress and their road map. Another is noting down my music repertoire I am currently working on. Sometimes it gets difficult to prioritize which pieces need more attention so creating a mind map helps me do that. I also use it for budgeting, overviewing my diet, using it as a travel checklist, and having a list of future birthday presents for my family. I never think of anything cool to give them when the time comes but great gift ideas just randomly pop into my head. Mind map is a great place to sort all of this out.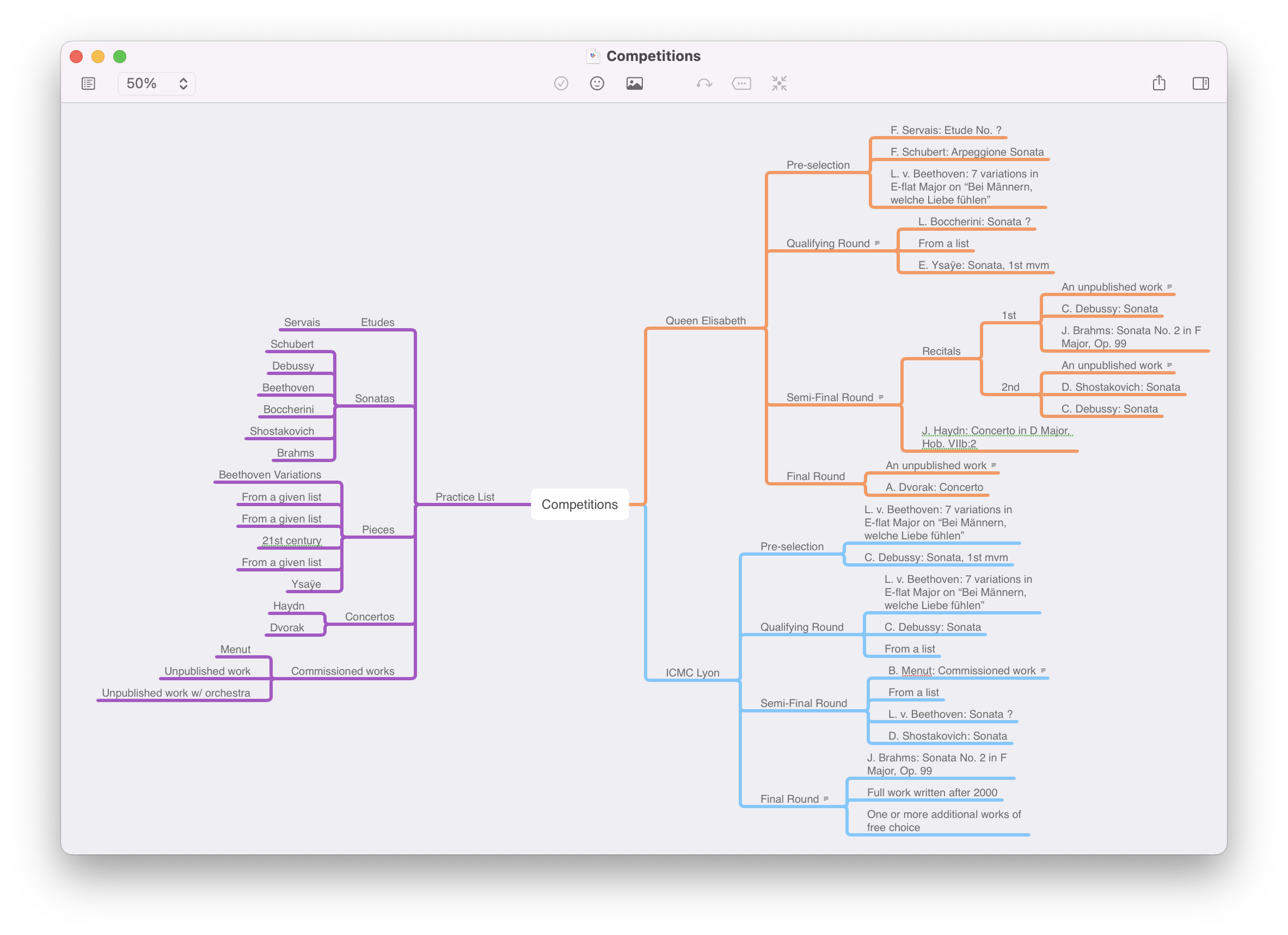 What are your favorite features?
What I like the most about MindNode are not the fancy and powerful features, but its simplicity and clean design.
What's your device of choice for MindNode?
If I had to choose, it would be a device with a lot of screen real-estate. I prefer using iMac and MacBook for mind mapping because I feel like it gives me visual and then mental space to develop my ideas. Don't get me wrong, iPhone is great for on-the-go mind mapping but I find myself using MindNode much more while sitting at my desk, listening to lo-fi music, and thinking.
Get MindNode
Download MindNode now and start exploring your ideas in a whole new way.