by Gregory Bondaruk on February 01, 2022
Where are you from?
I grew up in the Südburgenland, which is a very rural area in the south-eastern part of Austria, pretty close to the border of Hungary.
After finishing school I moved to Vienna to study software engineering, where I still live.
What do you do at MindNode?
Most of my tasks at MindNode revolve around engineering our native iOS, macOS and watchOS apps. This includes writing code, but also many other related tasks like working together with design or QA, helping with milestone planning and the release process or hiring new engineers.
I was the first engineering hire at MindNode and thinking back a lot of things have changed since then: the team grew considerably, and nowadays I spend a lot of time reviewing my teammates' code and coordinating within an amazing engineering team. Since I've been a part of MindNode for a very long time, I tend to have a good overview of our growing code base and past decisions that lead to the status quo.
What do you specialize in as an engineer?
I love working on user interfaces and making them beautiful, easy to use while still being powerful - which is a perfect fit since this has always been a big part of MindNode's DNA. 
While I work on all platforms, iOS has always been my speciality. Right now I'm working on modernizing our watchOS app.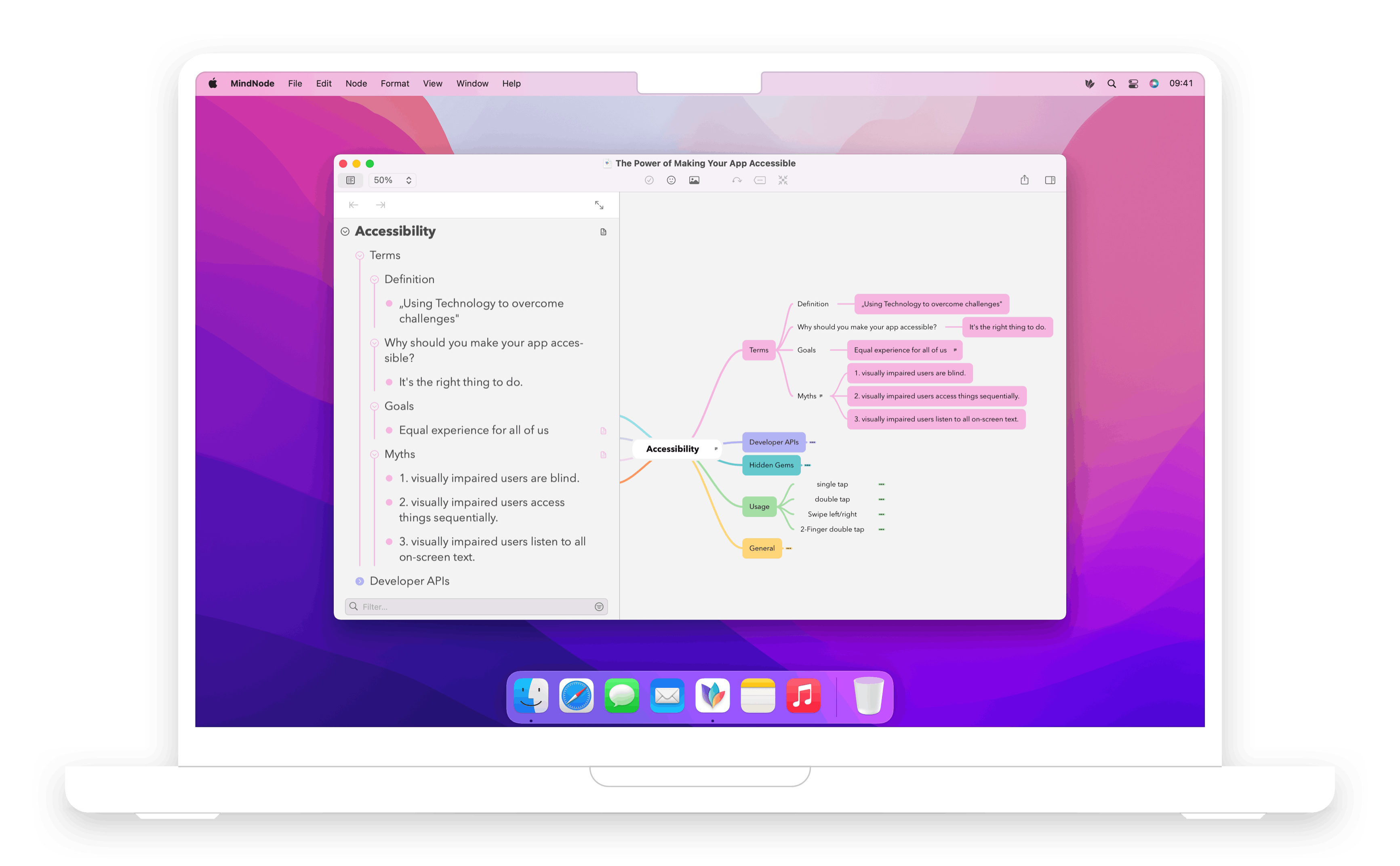 What do you do outside of MindNode?
I'm a little bit of a sports and adventure enthusiast, which shows in my hobbies. 
Depending on the weather I spend most days either in the climbing gym or, preferably, in the mountains - hiking, rock climbing or ski touring.
Recently I also discovered kitesurfing and was instantly hooked. I already have a few holidays planned this year, and those will either be kitesurfing or climbing trips 🙂
How do you start your day?
Instead of coffee I rely on a cold shower to wake me up in the morning 🚿. Which is not to say that I don't enjoy my daily coffee, but that comes later.
Besides that, I try to take the time at the start of the day for myself - taking it slow with some gentle stretching, yoga and breath-work or meditation.
I used to be very disciplined about this, since doing mostly home office, my morning routine is now somewhat mixed with checking my computer and work-related tasks.
And your weekend?
Being a software engineer, my working times are quite flexible - a perk that unfortunately not all of my friends share.
That's why "weekend time" is usually "mountain time" for me - going on a trip with my friends ⛰. 
As a result of this my time to sleep in is during the week, while on the weekend I get up much earlier 🙈
Where's your favorite place to climb?
One thing that makes living in Vienna great is not only the city itself, but also that there are plentiful options of climbing cracks around Vienna.
My favorite one is probably "Hohe Wand", which is about an hour away from Vienna. While it actually isn't as high a mountain as the name suggests ("high wall"), it's high enough to more often than not spoil us with beautiful sunshine in winter, while the city is covered in fog. 
A few of my favorite winter-escape-days have been climbing there in the sun at around 0 degrees and being so warm that it's possible to climb in a t-shirt and shorts ☀️
How do you mind map?
Professionally?
Every conference talk or workshop I've ever given starts with a brainstorming session. This may come as a surprise, but I like to start with post-it notes because I like the haptics and physical nature of them.
Once I've gathered enough information on the post-it notes, I move everything over into MindNode and continue from there. 
MindNode helps me to put things in perspective, reorganize my thoughts, and gain a better understanding of the interconnectedness of the various topics I wrote down and is an invaluable tool in my process.
And personally?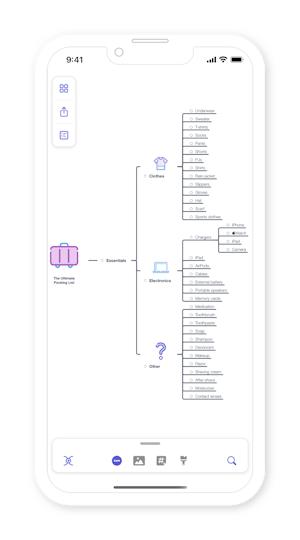 In the past, whenever I went on a trip or holidays, I used to forget to bring something important. That's why my most-used mind map is probably my packing list. 
This mind map contains a list of all the items I need for different trips, starting from personal items, clothes, electronics to specialized gear - you don't want to realize that you forgot to pack your climbing shoes while warming up at the crack.
In combination with MindNode's Task and Outline features, this mind map makes for a perfect reusable packing to-do list ☑️
What are your favorite features and devices to use MindNode on?
iPhone on the go for quick thoughts, Mac for everything else.
My favorite feature of MindNode is a very invisible one - I like that it gets out of my way and lets me iterate very quickly. 
Especially the vast support of keyboard shortcuts help me to stay productive, while brainstorming and organizing. I can basically tweak every part of my mind map or outline without having to reach for the mouse or trackpad.
Get MindNode
Download MindNode now and start exploring your ideas in a whole new way.