by Gregory Bondaruk on October 20, 2021
Hi Harald! Where are you from?
Born and raised in Vienna, in the beautiful district of Simmering. In fact, I'm the only original Viennese employee of MindNode!
What do you do at MindNode?
MindNode always had a strong focus on design. It's no surprise that my job as employee no. 1 was, and still is, design. As the company has grown over the years, my job description changed. From "everything design-related" to focusing more on user experience and product design.
What does design mean at MindNode?
Good software is a cohesive, integrated set of experiences. This involves many different aspects — from user research, information architecture, and optimal task-paths, to interfaces, usability and accessibility, to integration with marketing, help/support and so on. My job is to make them all work together as seamlessly as possible, from initial intentions through final reflections. In the end, I don't just focus on creating products that are usable, but also on aspects such as pleasure, efficiency and fun. To paraphrase Simon Sinek: "UX is all about the Why, What, and How of an app, in that particular order".
Do you have a favorite project or feature that you've worked on?
That would certainly be the editable outline! I did outline a lot before, but having a powerful outline AND a mind mapping tool in the same app really is a game changer for me. It dramatically reduces friction, because I can comfortably outline at the beginning of an idea within MindNode, and can then just jump into organizing my thoughts without any step in between. Before the editable outline, many smaller ideas just never got past the outlining phase, but now that I do that in MindNode, I realized how often they would have benefited from some organizing in the mind map format, though I rarely did that.
What do you do outside of work?
I'm a person of many interests and what I do outside of MindNode has a wide range. From organizing events like Café to Stay, Gin-chiller, and Creative Mornings, hosting the 3W6 podcast and its ever-growing community and conventions, to writing and designing tabletop RPGs or being a part-time filmmaker.
What's your ideal vacation?
Since the pandemic began, I favor short and local vacations that condense a lot of experiences into a small amount of time. Which makes a weekend feel like an entire week away from home! I enjoy discovering new stuff, whether that's a city's culture, events, food, or connecting to local communities I know from my various projects. But I also love to relax in a spa or at the beach! It is all about the rhythm of mixing slow and fast times, comfort, and new experiences.
How do you take your coffee?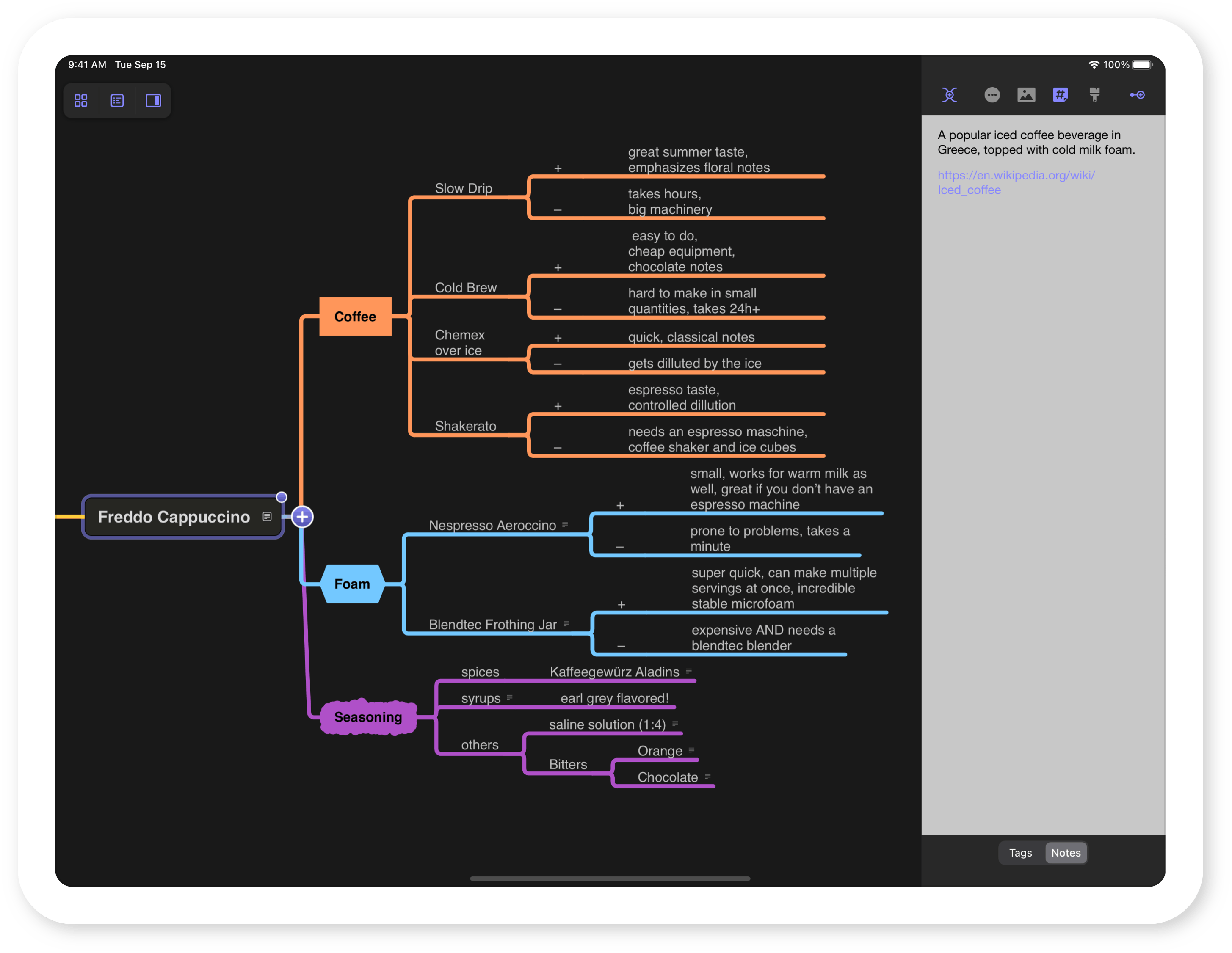 I'm the resident coffee nerd at MindNode and my preferred coffee depends on the time of day and season. I love a good cappuccino, but when it's hot, a shakerato is great. Slow drip with tonic is fantastic to get enough to drink AND some caffeine! And in the evenings, a Churchill's Breakfast cocktail combines the best of whiskey and coffee for me.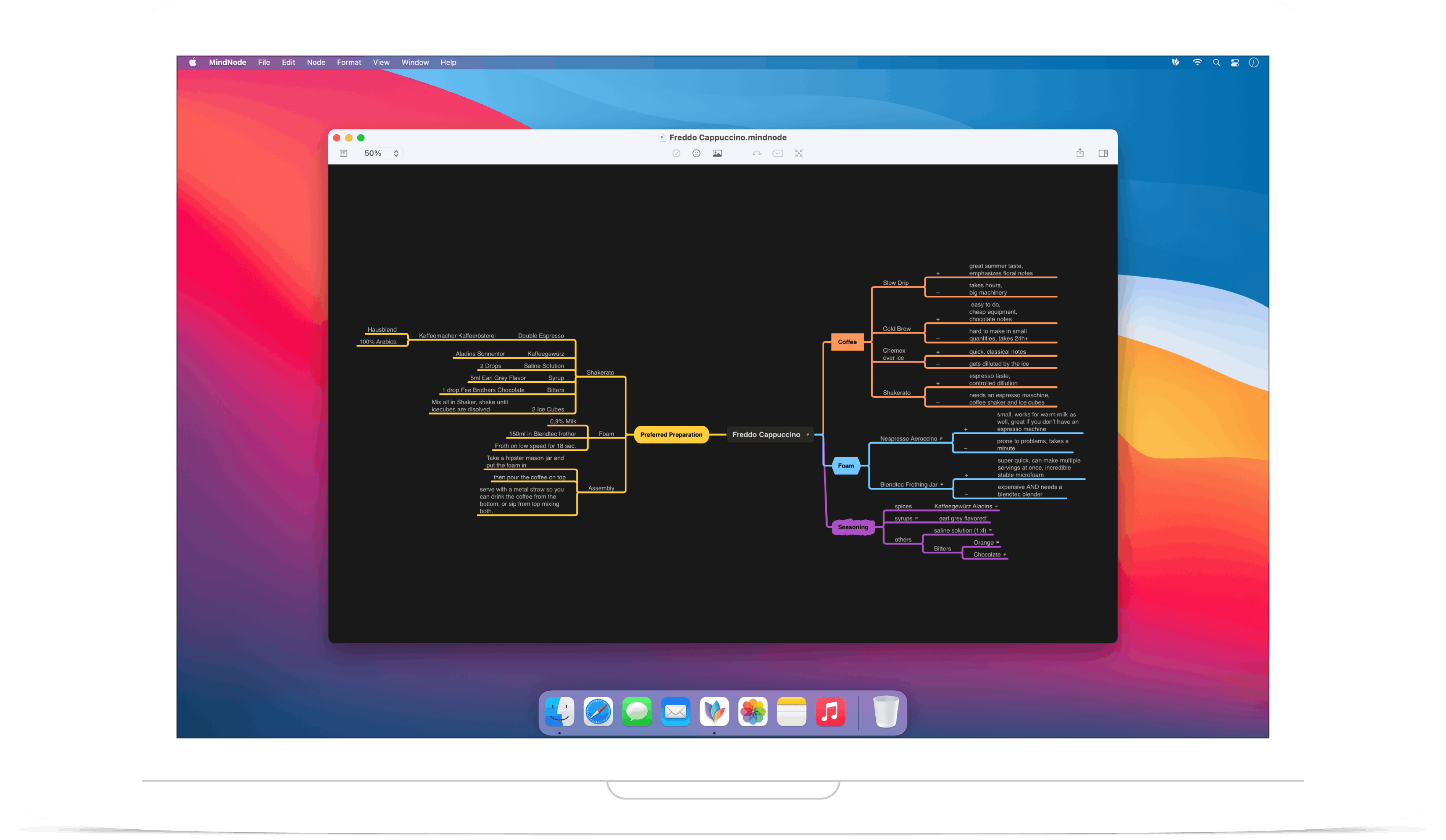 How do you start your weekend?
I start every Saturday with sleeping in. Then I have an elaborate breakfast—the most important meal of the day! Followed by hanging out with my extended family who is living nearby.
How do you mind map at work?
I do meeting notes, project management, and sample mind maps for testing new features. And occasionally I present mind maps of new ideas to colleagues.
And personally?
I use MindNode for tons of side projects! It's indispensable to brainstorm ideas for new RPGs. Or outline a story I'm writing. Or making prep notes for the podcast. I even plan and organize my next event in MindNode.
What's your favorite feature?
That's the editable outline, but I use notes a lot as well. Taking a step back, it's the magic of a tool that get's out of my way. This allows me to throw my thoughts at it and then boil it all down. In particular, I love how often that process results in something new. Something I didn't see before, that makes the idea behind it all becomes evident.