by Markus Müller-Simhofer on April 19, 2022
Elevate Capturing Your Ideas – MindNode 2022.2
One of my initial motivations behind developing MindNode was to make it quick and easy to capture new ideas. Other apps have a steep learning curve, making it hard to focus on brainstorming. Our solution for that is the concept of the node well: a plus sign next to a node that allows adding a new idea right where you want to attach it. The node well has been part of MindNode since its early prototypes, and today, we are enhancing it in a big way.
Fresh Design
The node well received a fresh new design, but as before, it remains the easiest way to add new ideas to any part of your mind map. A quick tap on it will create a new child node, and you can start typing in your thoughts. You can also use it to quickly fold in child nodes by holding Option (⌥) and tapping on the node well.
Dynamic Node Creation
The node well displays its new dynamic power, when instead of tapping on it – you start dragging it. You can dynamically see where it would insert a new node as you drag it on the canvas. It will dynamically attach to new parents, and child nodes will automatically make room, so you can more precisely position the new idea. You can even move it to a free area on the canvas to create a new mind map.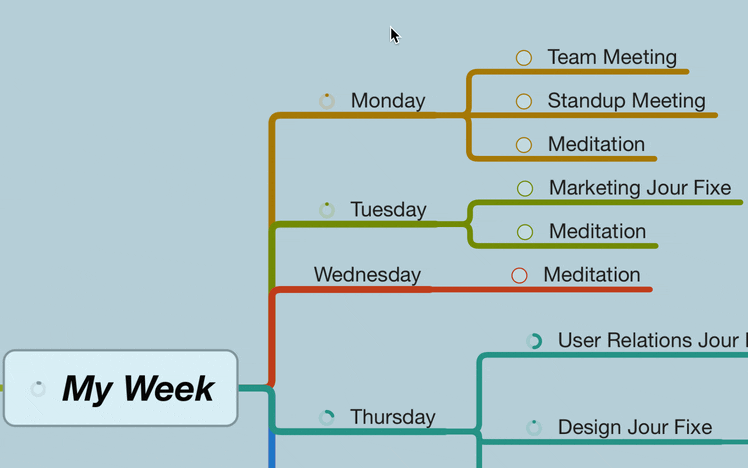 iPad and Universal Control
For the first time, we're also bringing the full dynamic node well behavior to iPads. So, if you have a trackpad or a Magic Keyboard attached to your device, you can use the same behavior as on your Mac. This even extends to Apple's new Universal Control feature. Seamlessly move between your Mac and iPad using the same keyboard, mouse, or trackpad. No need to adjust your interaction. The node well will work identically on your devices.
Quick Entry & MindNode ID
There are two significant new features in today's update that I also want to mention. First, we brought all of the design and features of our new editable outline to Quick Entry - our solution to quickly capture ideas. You can now enjoy the same behaviors and keyboard shortcuts you already know and love from our outline in Quick Entry. Second, MindNode ID is our new optional account system that enhances our MindNode Plus subscription. Previously, to share our subscription between your devices, you needed an iCloud account. Using MindNode ID, you can now access your subscription from devices that are not allowed to access iCloud (e.g., devices owned by a company).
Available Now
All mentioned features above and much more are now available on the App Store, Mac App Store & Setapp in today's MindNode 2022.2 update. Learn more about all changes in our detailed release notes.
Get MindNode
Download MindNode now and start exploring your ideas in a whole new way.