by Markus Müller-Simhofer on March 15, 2019
MindNode 6 – Focus on Your Ideas
As we celebrate MindNode's 11th birthday today, we have a very special surprise for you: MindNode 6 ships next month! It will add a brand new Focus Mode to MindNode. Also it's a free upgrade for users of MindNode 5.
Focus Mode – Focus on Your Ideas
When working on the nitty-gritty details of a broad concept, you just don't want to see the bigger picture. Instead, you want to concentrate on the one area you're currently working on and hide others. Focus Mode allows you to do precisely that. It puts a spotlight on a particular part of the mind map and fades out all the rest. With no more distractions, you can focus on letting your ideas grow.
But there is more! Ideas are unpredictable, and you can never know when inspiration will hit you. To that end, we made it easy to refocus on a different part of the mind map. With Focus Mode you can always follow your train of thought.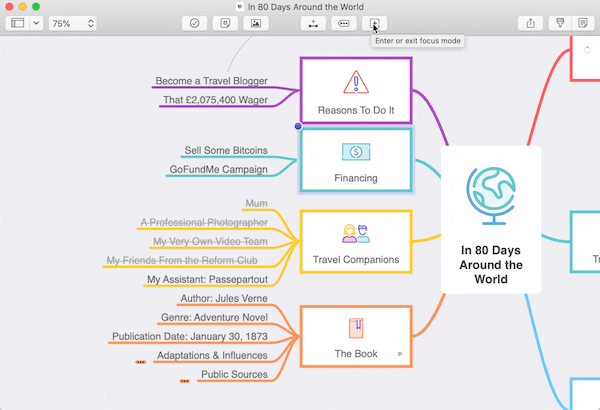 MindNode 6 – New Free Update
Focus Mode is only one of the new features that will ship as part of MindNode 6 next month. MindNode 6 on iOS will also add Multi-Select and a greatly improved External Screen Support. Furthermore, we added the ability to hide Cross Connections, and you can now search for stickers.
MindNode 6 will ship on April 24th, and if you have a license for MindNode 5, you can upgrade to MindNode 6 for free.
Get MindNode
Download MindNode now and start exploring your ideas in a whole new way.