This is an article dedicated to all our loyal users of MindNode 2 for Mac and MindNode 4 for iOS. Thank you for sticking with us all this time. Whilst MindNode is still MindNode, a lot of things were added and improved at first with MindNode 5, then MindNode 6, MindNode 7, and now MindNode 2022.
Here's a list of all the Features, we introduced in the last three years:
FEATURES
1. Compact Layout
Brand new layout for creating organization charts and condensed top-down mind maps.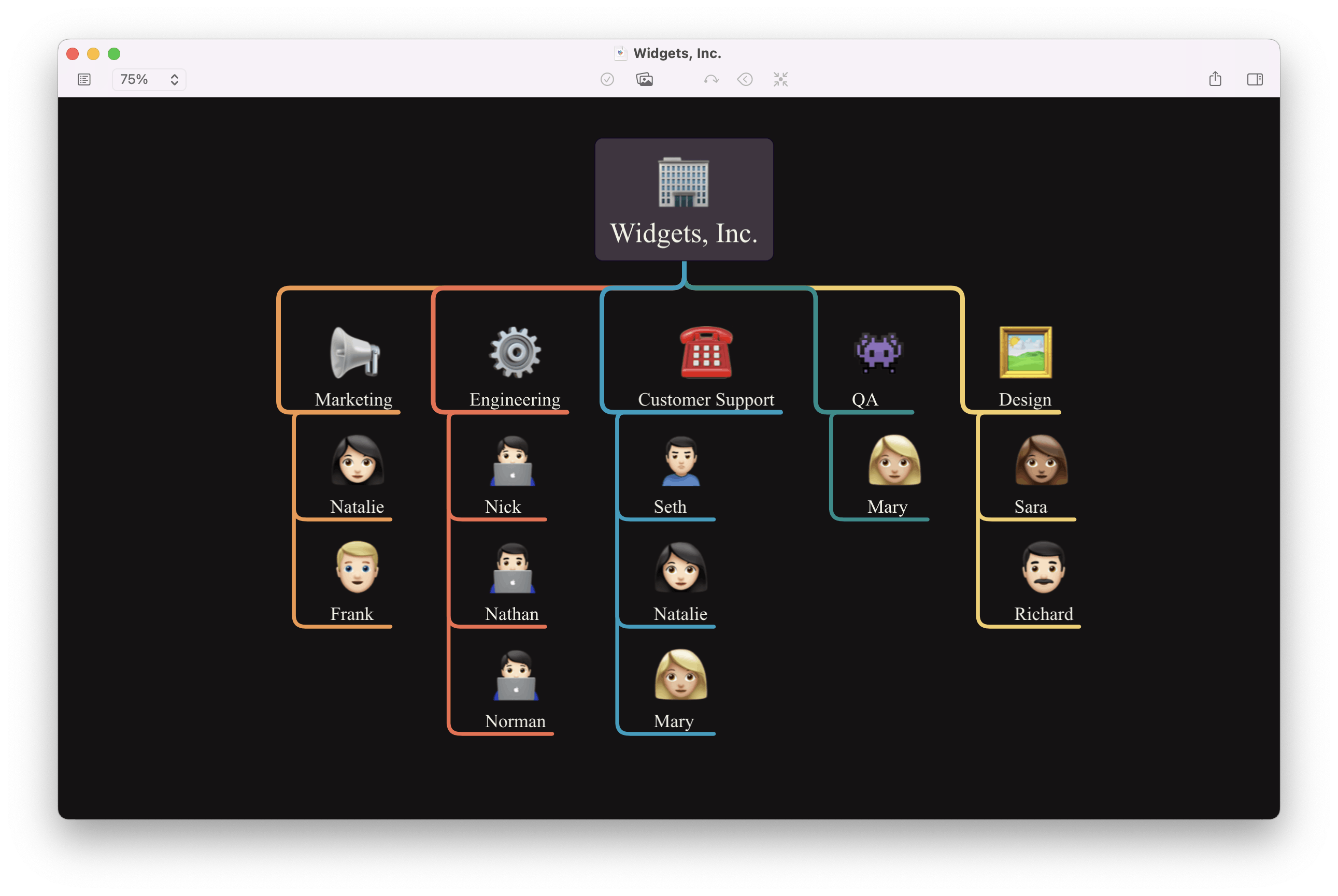 2. Emoji Stickers
Pick any emoji as a colorful sticker. Decorate your mind map with smileys, animals, symbols, and more.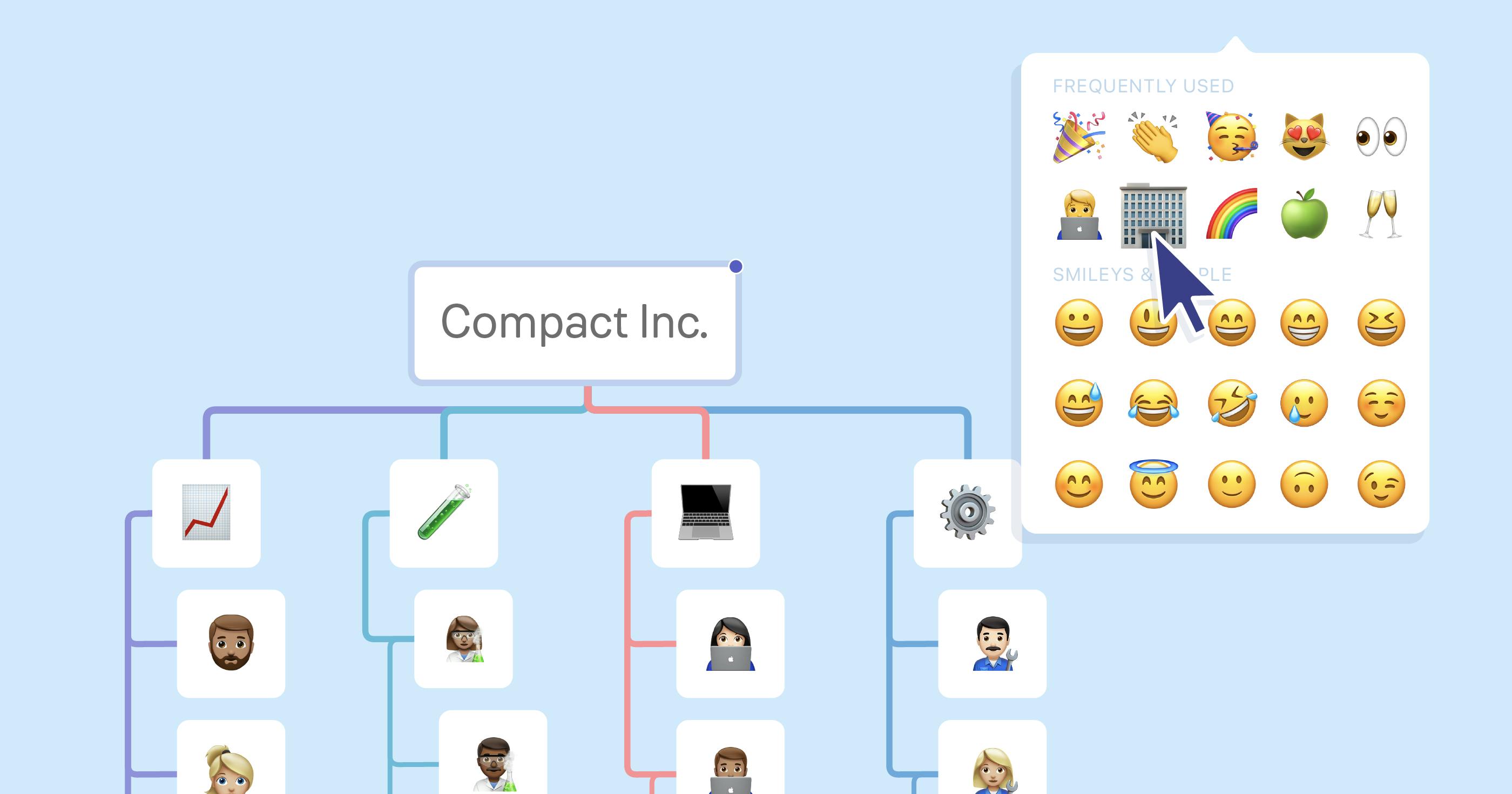 3. Focus Mode & 4. Hide Cross Connections
Puts a spotlight on one part of your mind map and fades out all the rest. Focus Mode helps you minimize distractions and stay focused to finish your thought.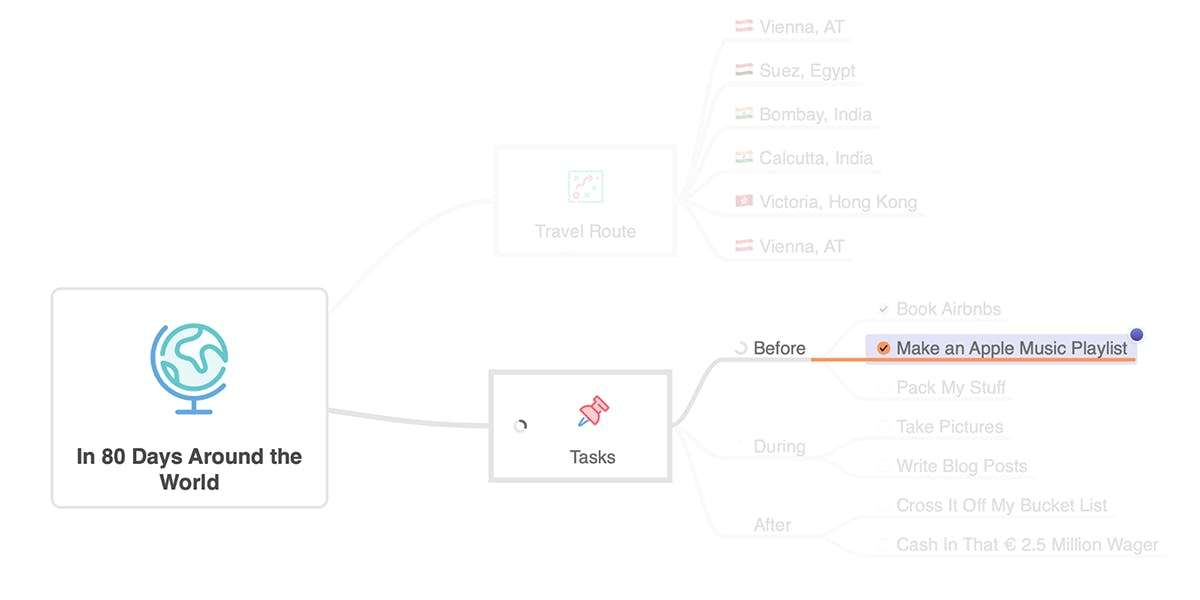 The ability to hide all Cross Connections reduces distractions even further for you.
5. Visual Tags
Categorize and add more context to your thoughts. Use tags to prioritize ideas and bring focus to a related group of ideas that are otherwise not connected. Using our tag-highlight mode you can focus on selected tags to discover new connections.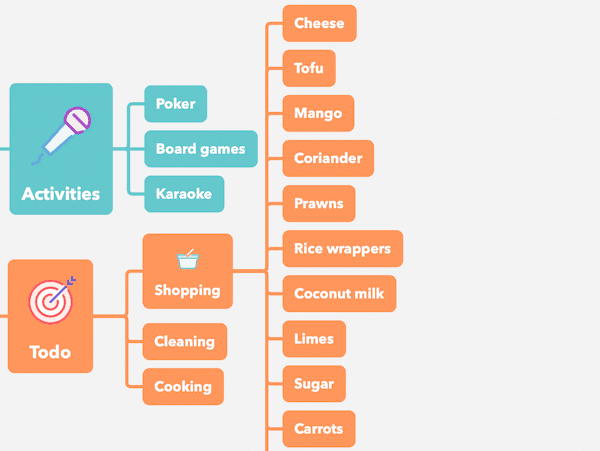 6. Top-Down-Layout & 7. Orthogonal Branches
Grow your mind map from top to bottom, or bottom to top. Mix and match layouts on the same canvas.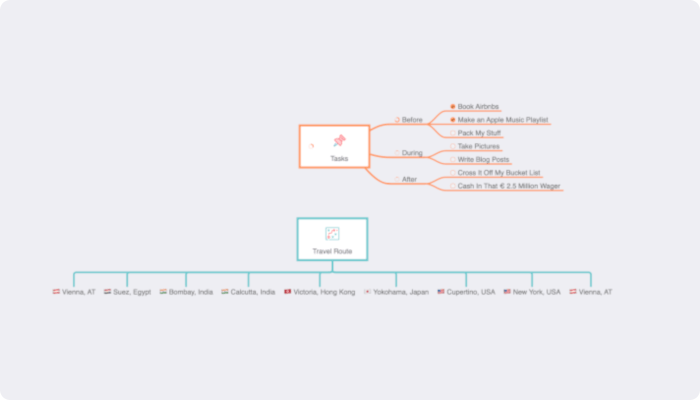 And/or change line type from rounded to orthogonal to give them a more edgy look and feel.
8. Redesigned Stickers & 9. Sticker Search
Our newly designed stickers allow you to create even more beautiful and expressive documents.
Quickly find the right sticker to make your document even more appealing.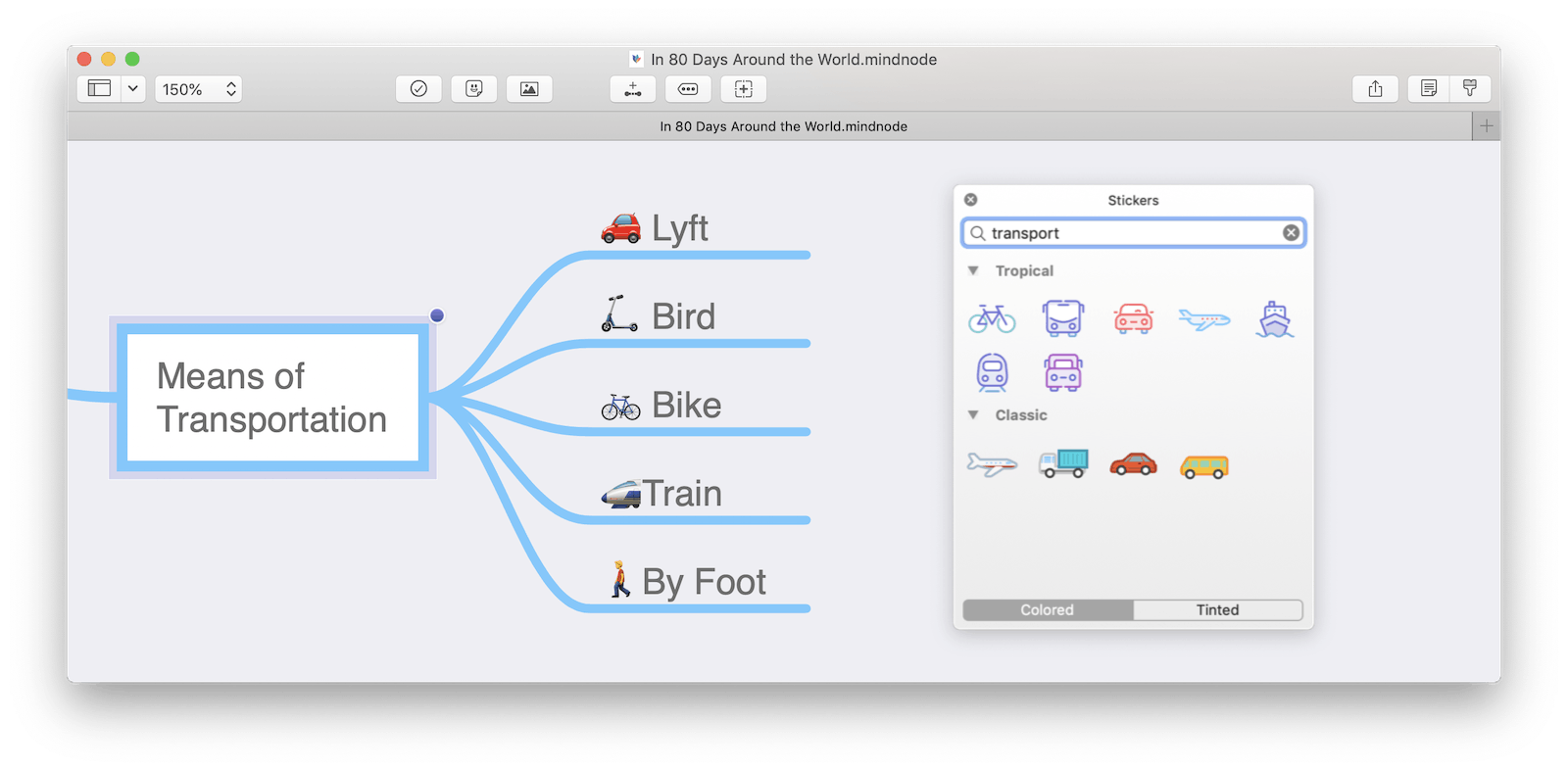 10. New Image Positioning
Arrange stickers and images where you want them, on top, below or next to your idea.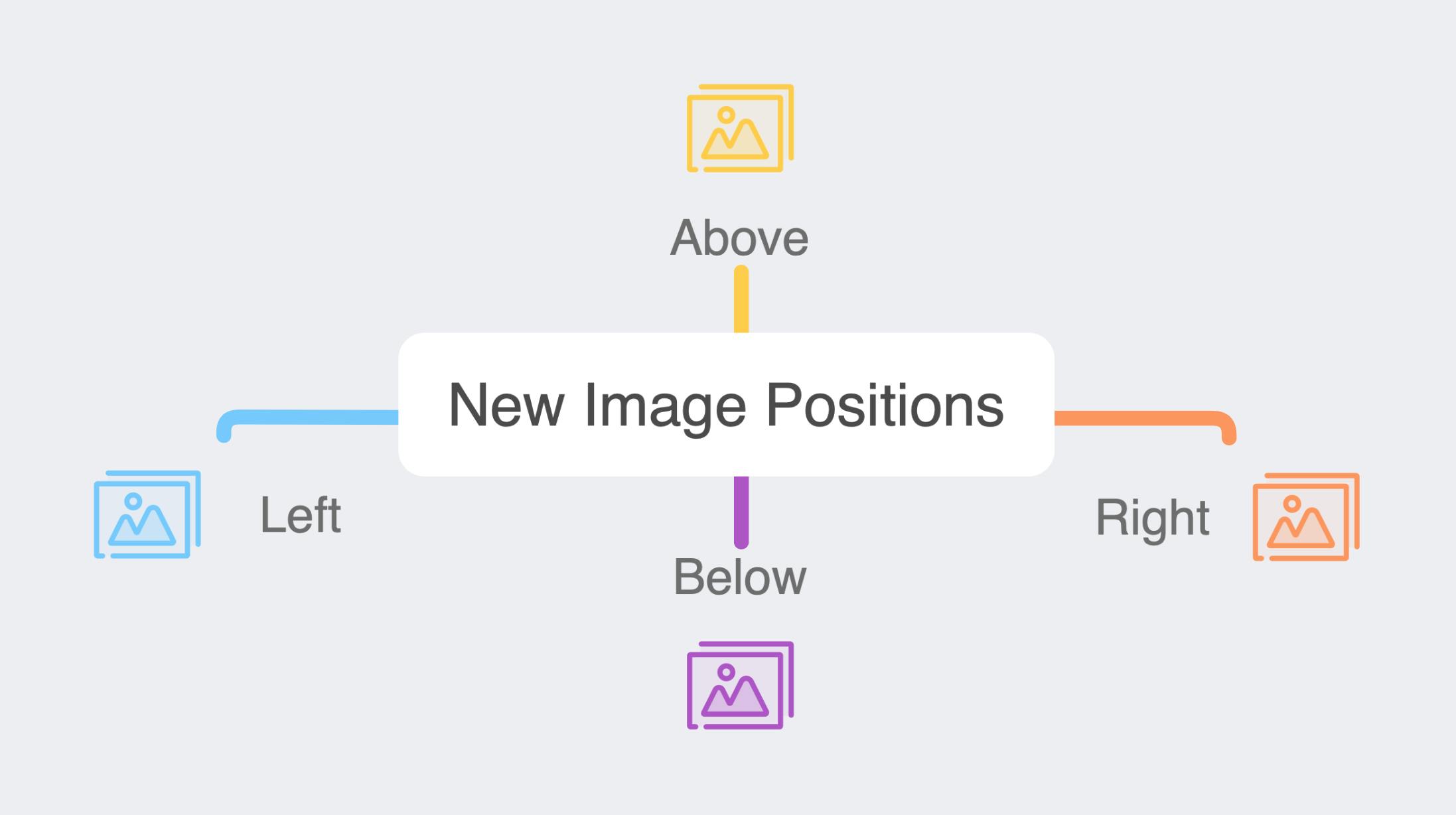 11. New Node Shapes
Use the all-new hexagonal and octagonal node shapes for a fresh way to highlight your ideas.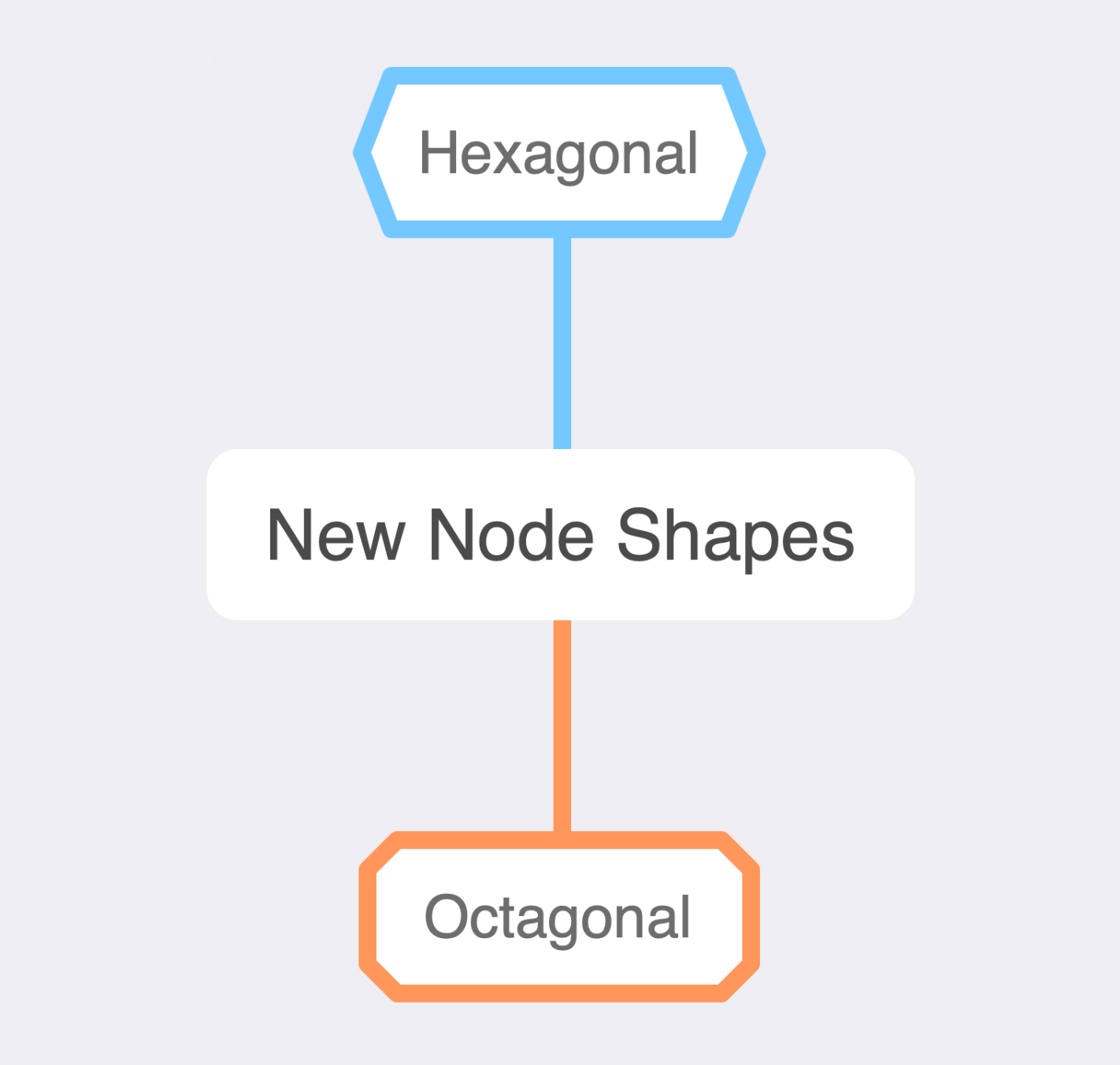 12. Personal Themes
Create as many personal themes as you like, sync them to all your devices, and share them with others. To make your mind maps look exactly as you want them. New built-in themes make your mind maps even more beautiful.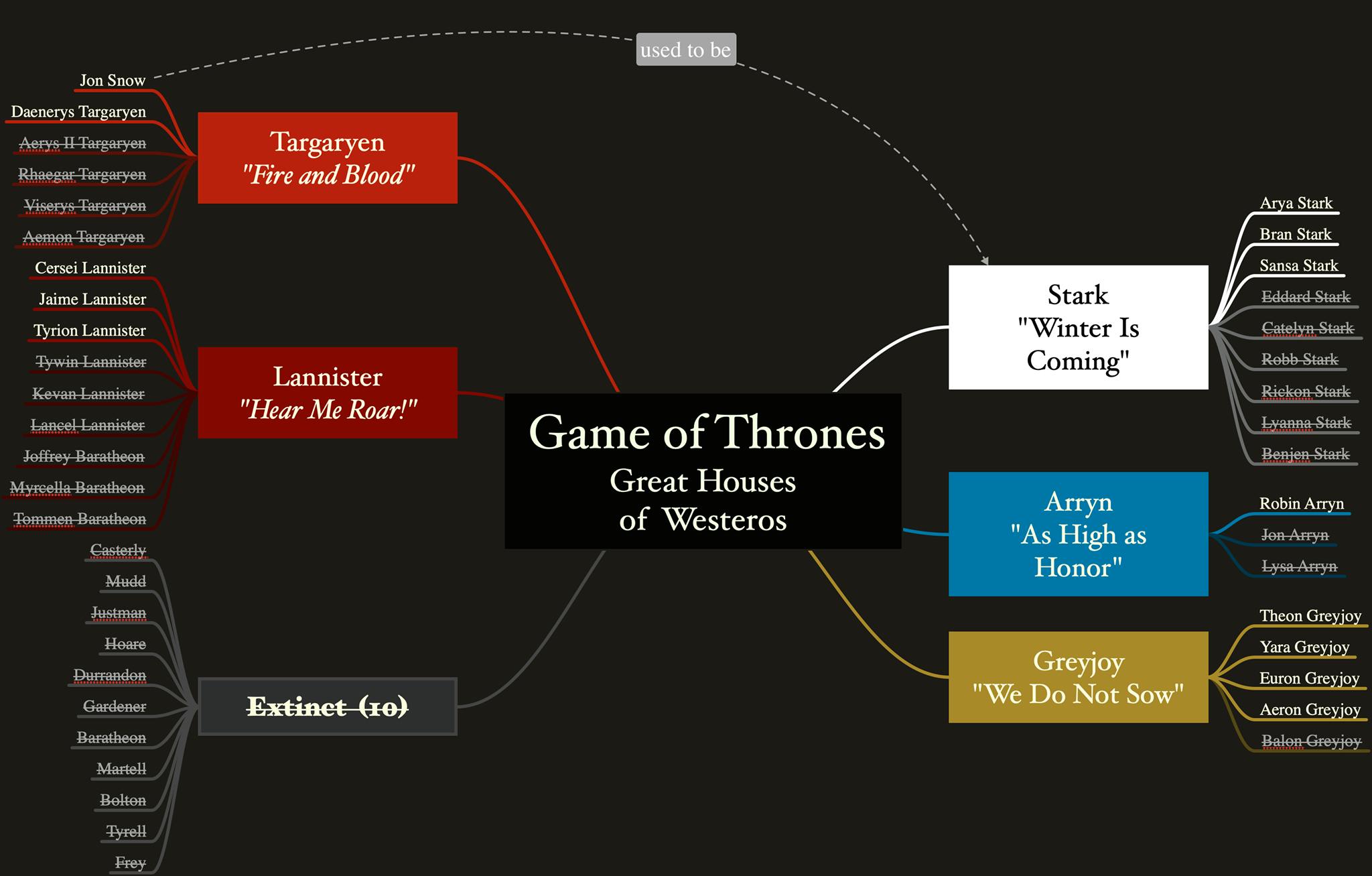 13. New Design & 14. Dark Mode
Many aspects of the user interface were updated to give the app a fresh new look and feel. All UI icons and stickers were updated in an all-new style.
Also, MindNode is now fully optimized for macOS Mojave's Dark Mode. In MindNode's Preferences you can adapt the appearance to your needs: use the system default or choose light or dark mode. We also added a brand new Dark Mode optimized theme (Slate) to help you better focus on your ideas.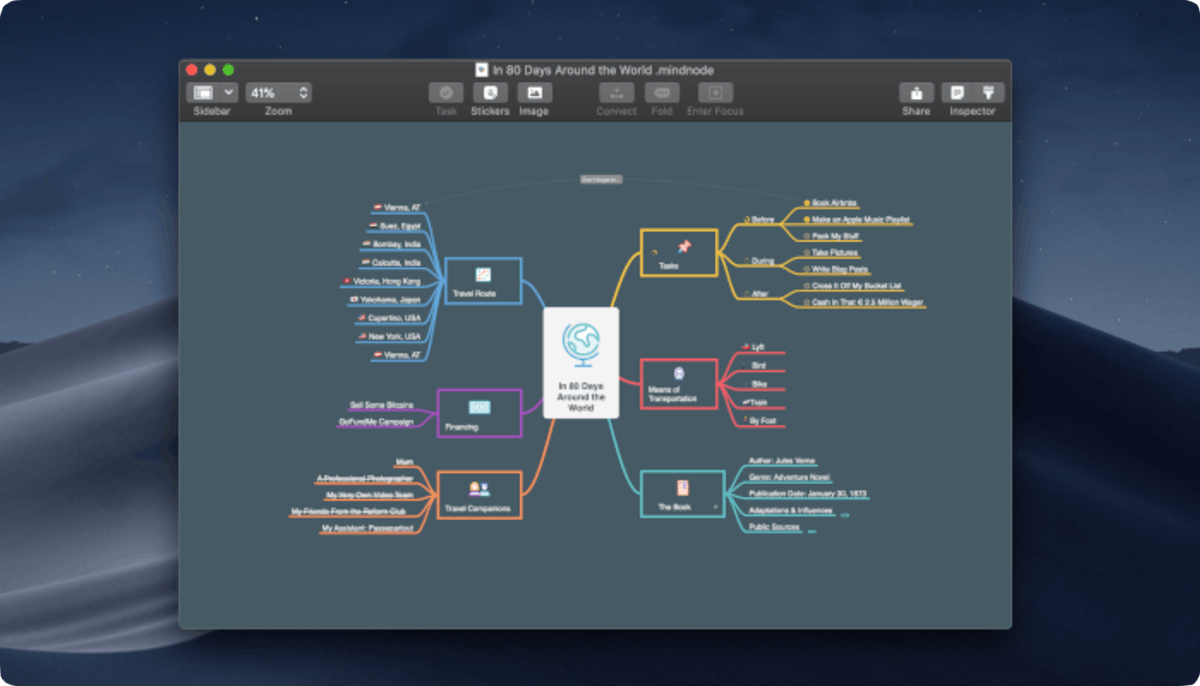 On iOS, the user interface automatically switches to Dark Mode if you're using a dark theme. Also, iOS 13 added a system-wide Dark Mode and we are now fully supporting it. We also added the ability to configure the default appearance in MindNode's settings. For example, if you preferred our previous theme-base dark mode, you can configure it there.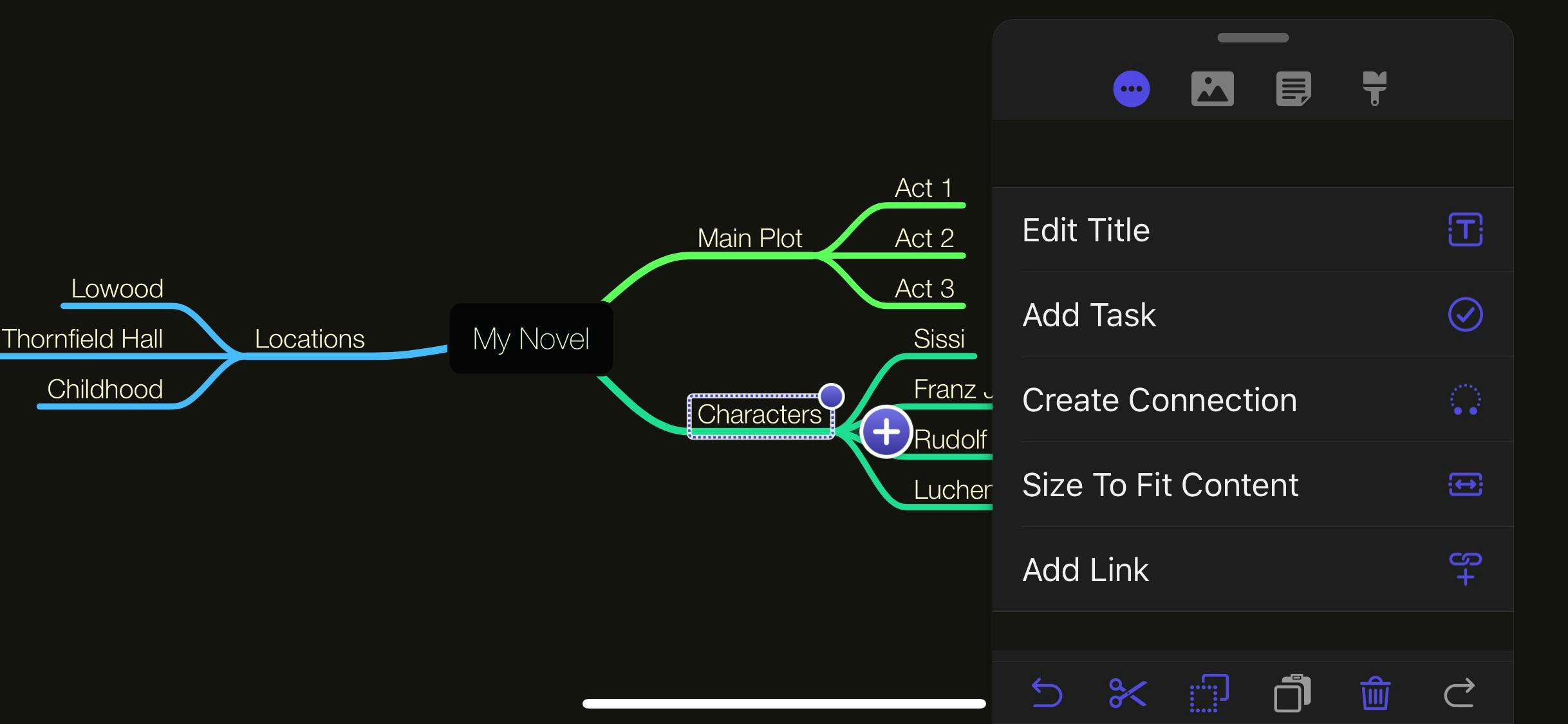 15. Improved Outline
You can keep Outline and Inspector open at the same time now! Also, the Outline shows notes inline and the display of main nodes without child nodes was improved. In addition, always the entire node title is shown (also when searching content). During the search, all found results in the same node are highlighted.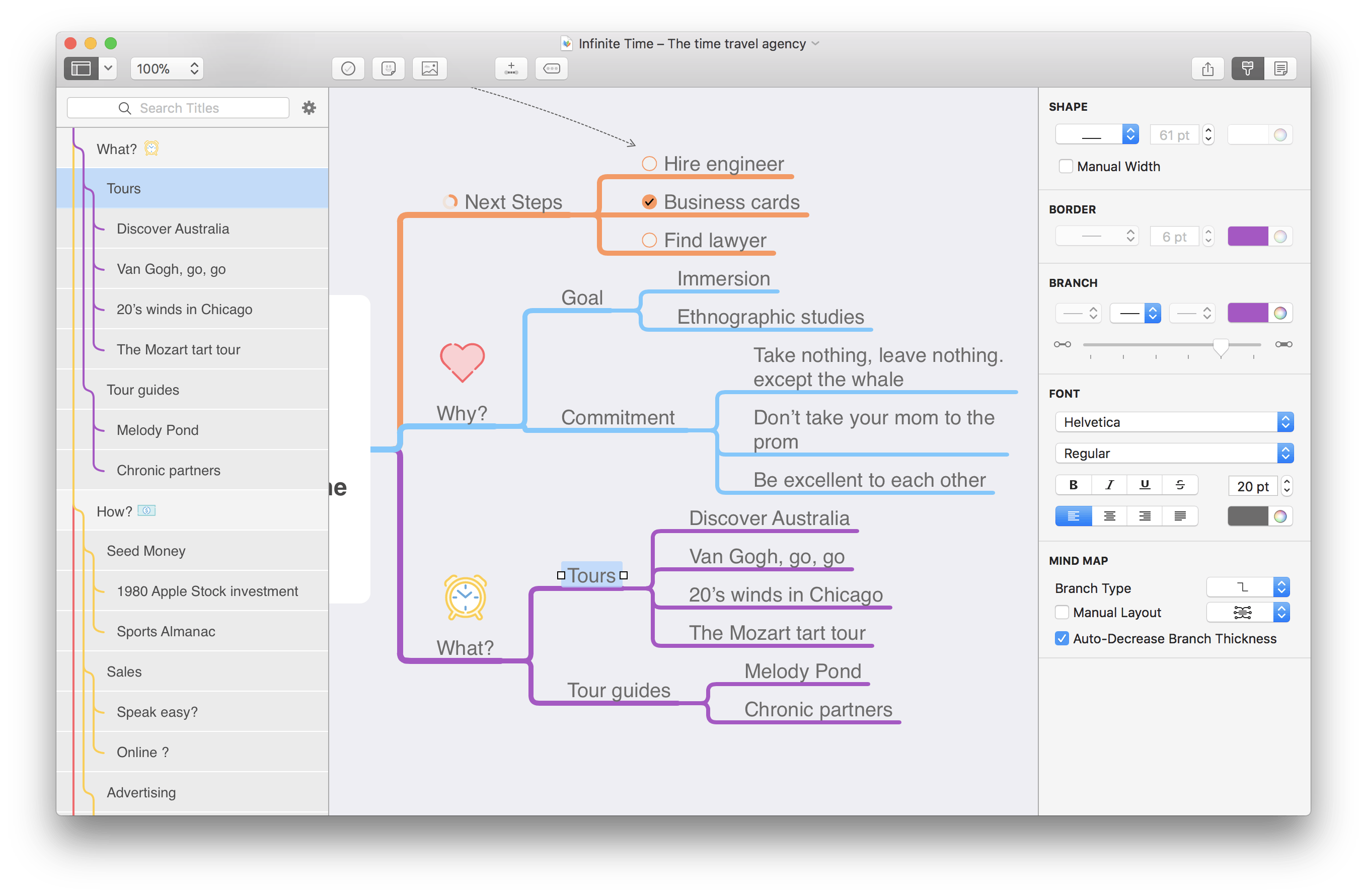 16. Resize Outline & Notes
You can now increase the size of the Outline to give a mind map and outline the same space.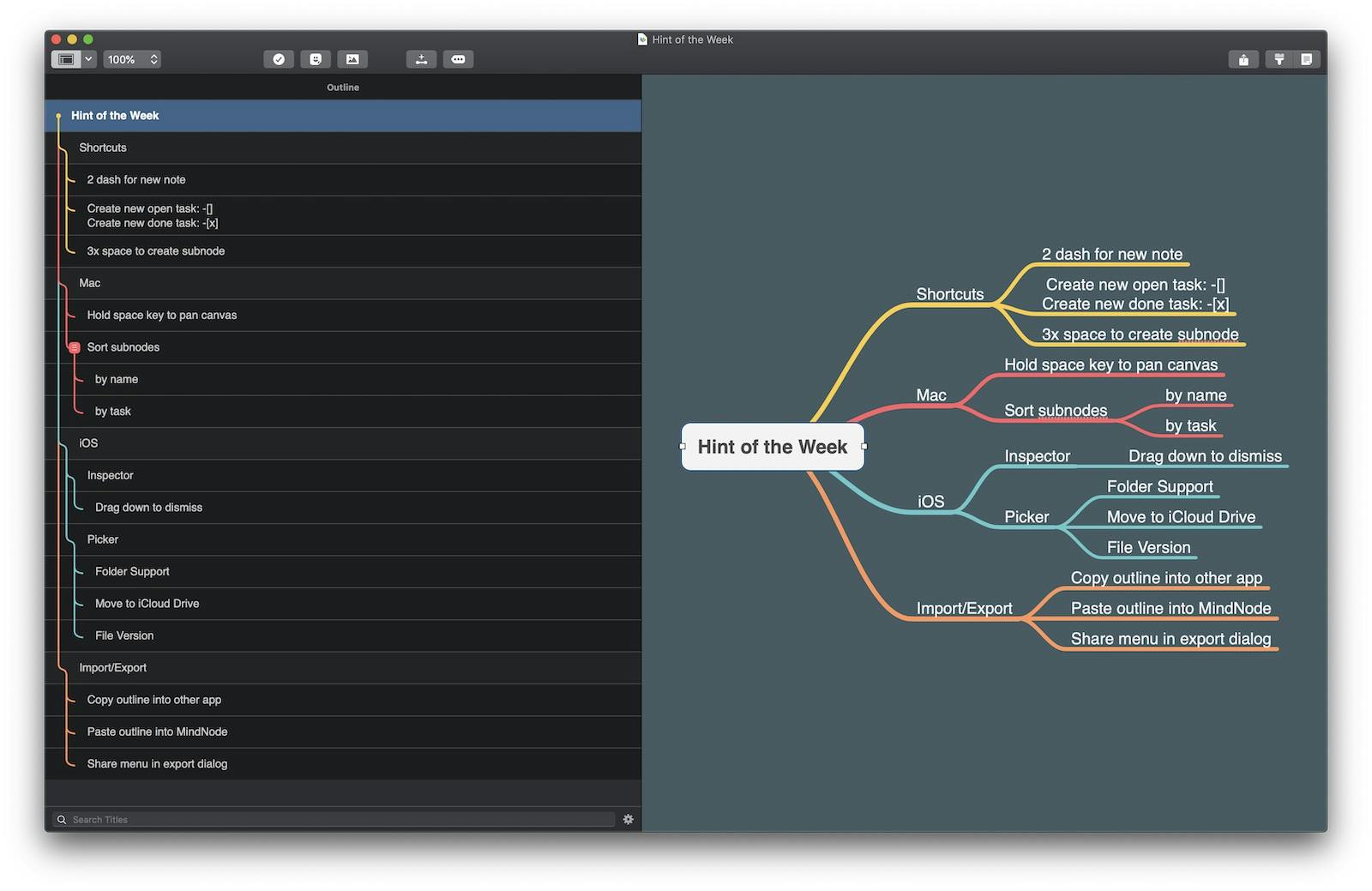 And the Outline is not the only sidebar you can resize! We also added the ability to resize the Notes sidebar.
17. Quick Entry
Start your brainstorming process by collecting thoughts in an easy-to-edit list layout. When you are ready, convert it to a mind map to further develop your idea.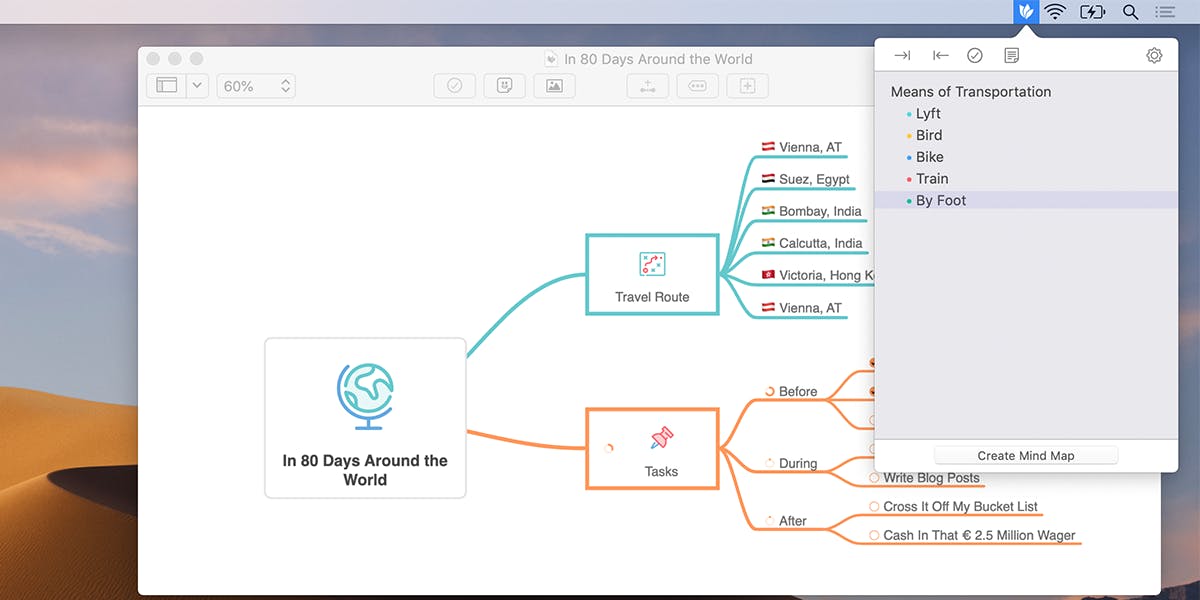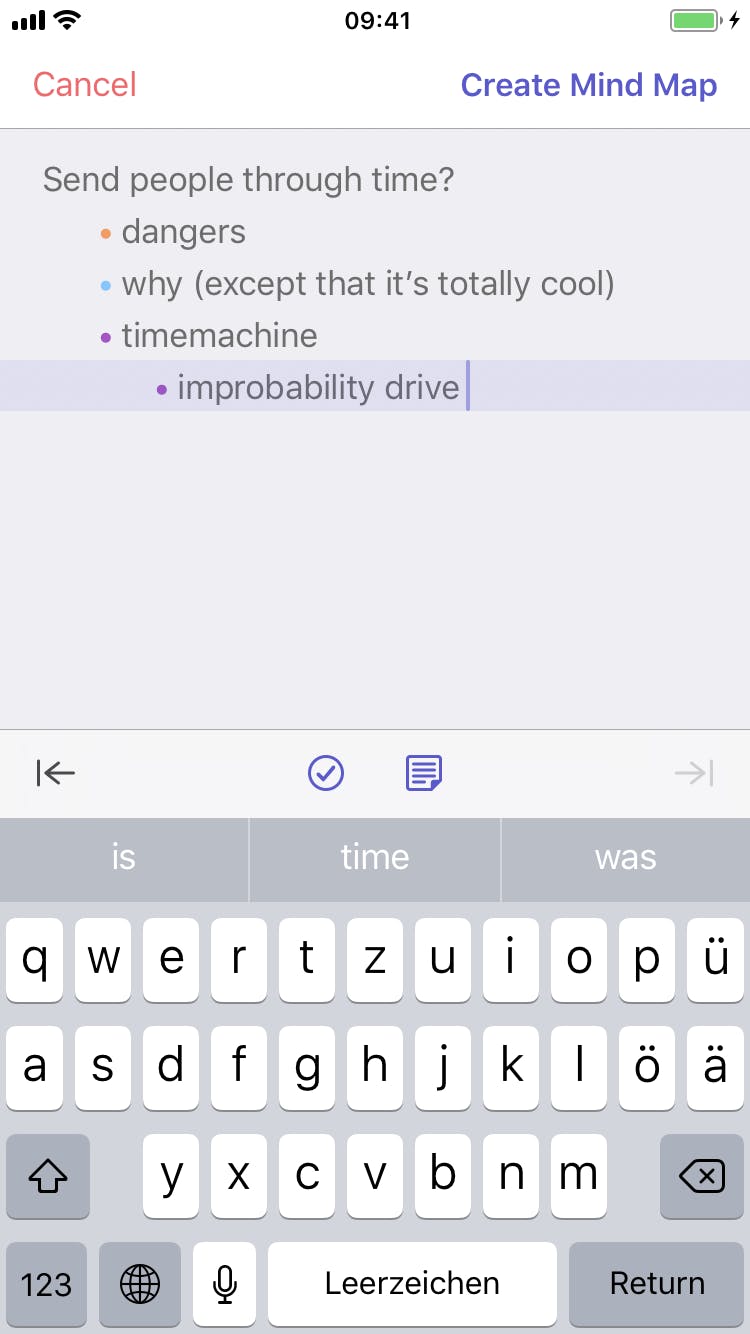 18. URL Schemes
Launch Quick Entry or import documents using our new URL Schemes - Learn all the details in our User Guide. Use "Copy URL Scheme" in the Share menu to create an URL to a document.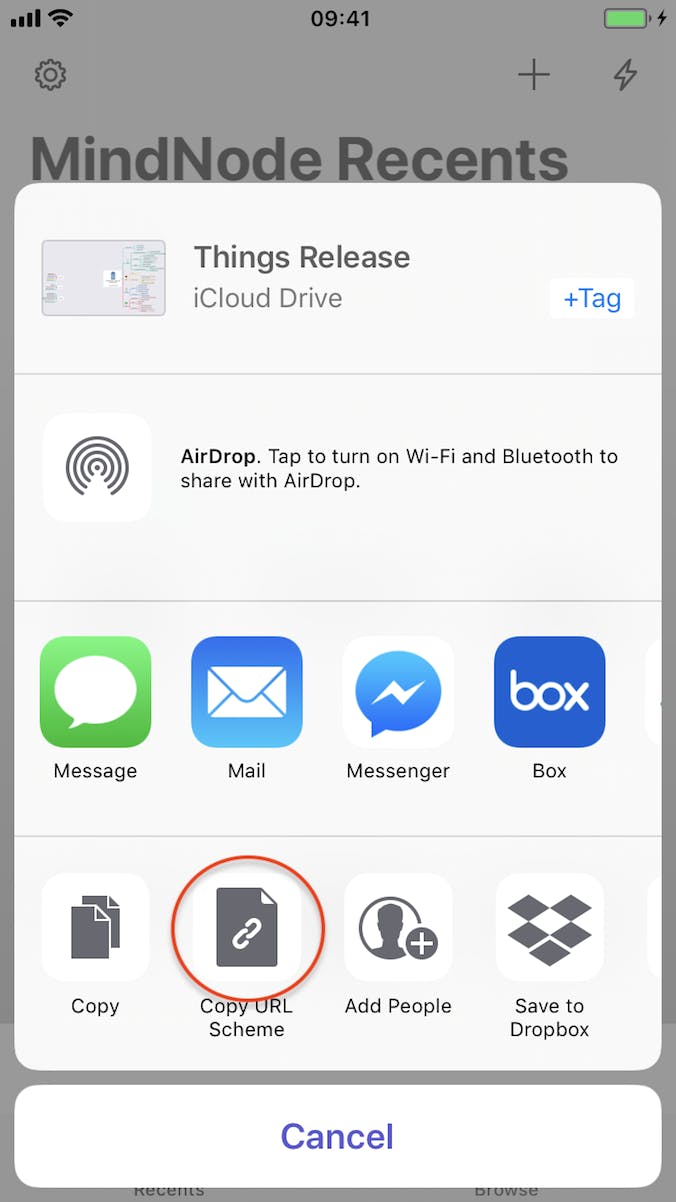 19. Things Export
Send your tasks to Things 3.4. Your document is converted into a new project with all open and completed tasks. Hierarchies are exported as headers in Things.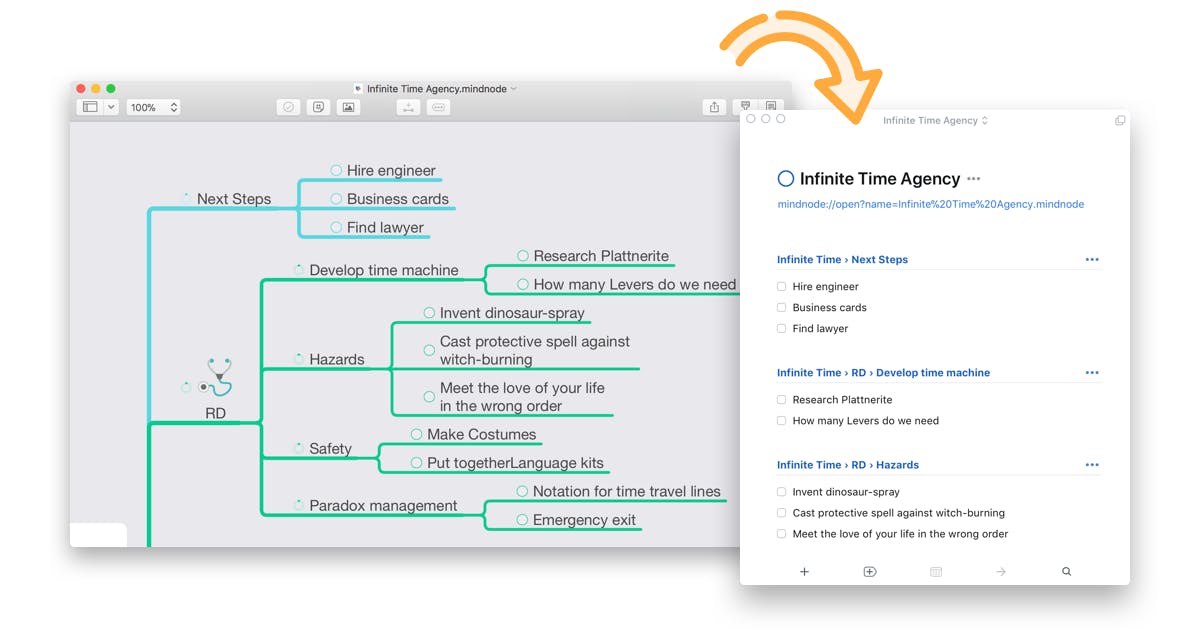 20. Performance Improvements
Increased overall performance when using MindNode. Document save and load is considerable faster; almost every direct interaction on the canvas is smoother. Especially when working with large documents, MindNode is now more responsive.
21. Traditional Chinese & Thai
MindNode is now available in Traditional Chinese & Thai, increasing overall localizations too.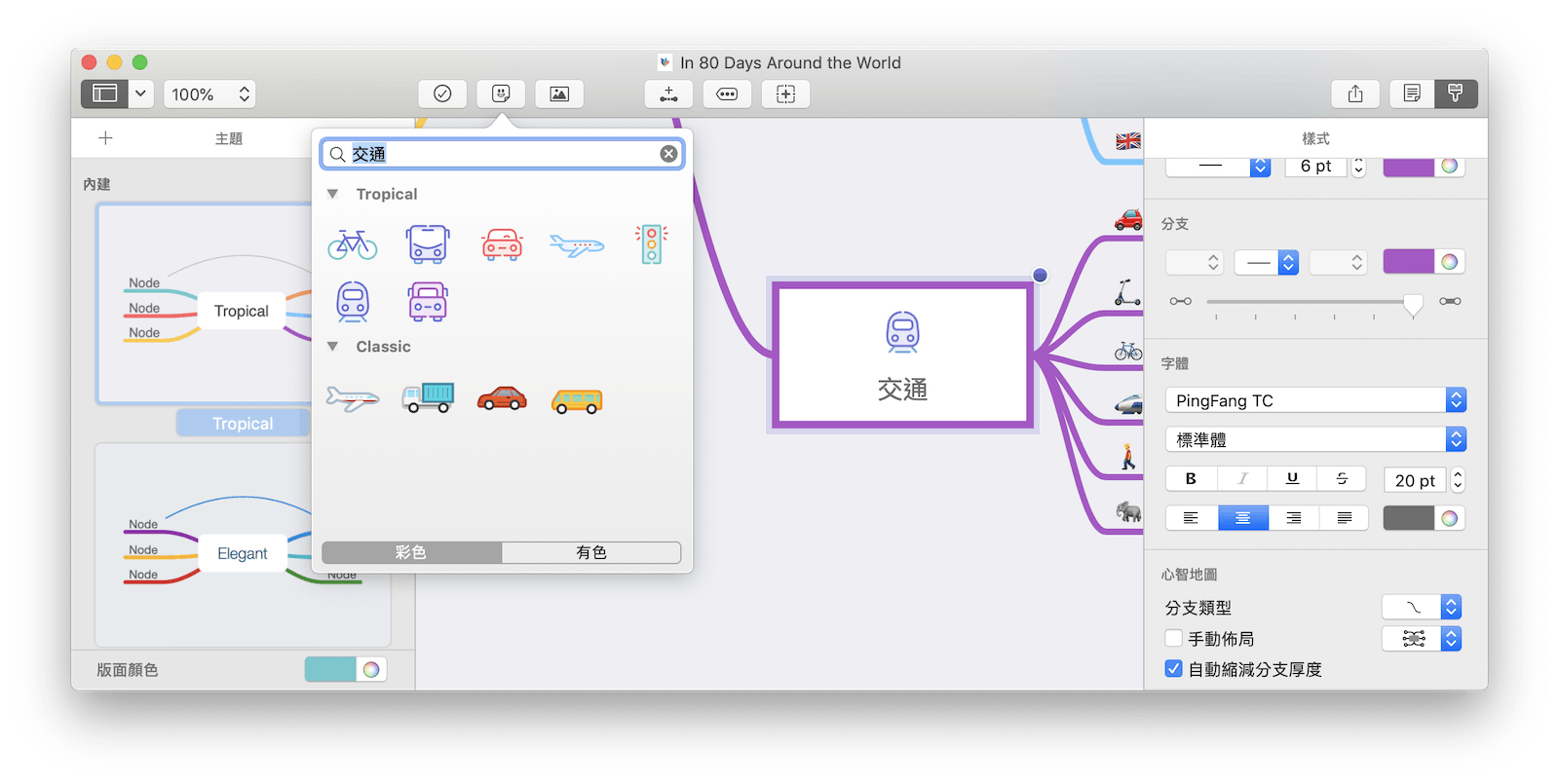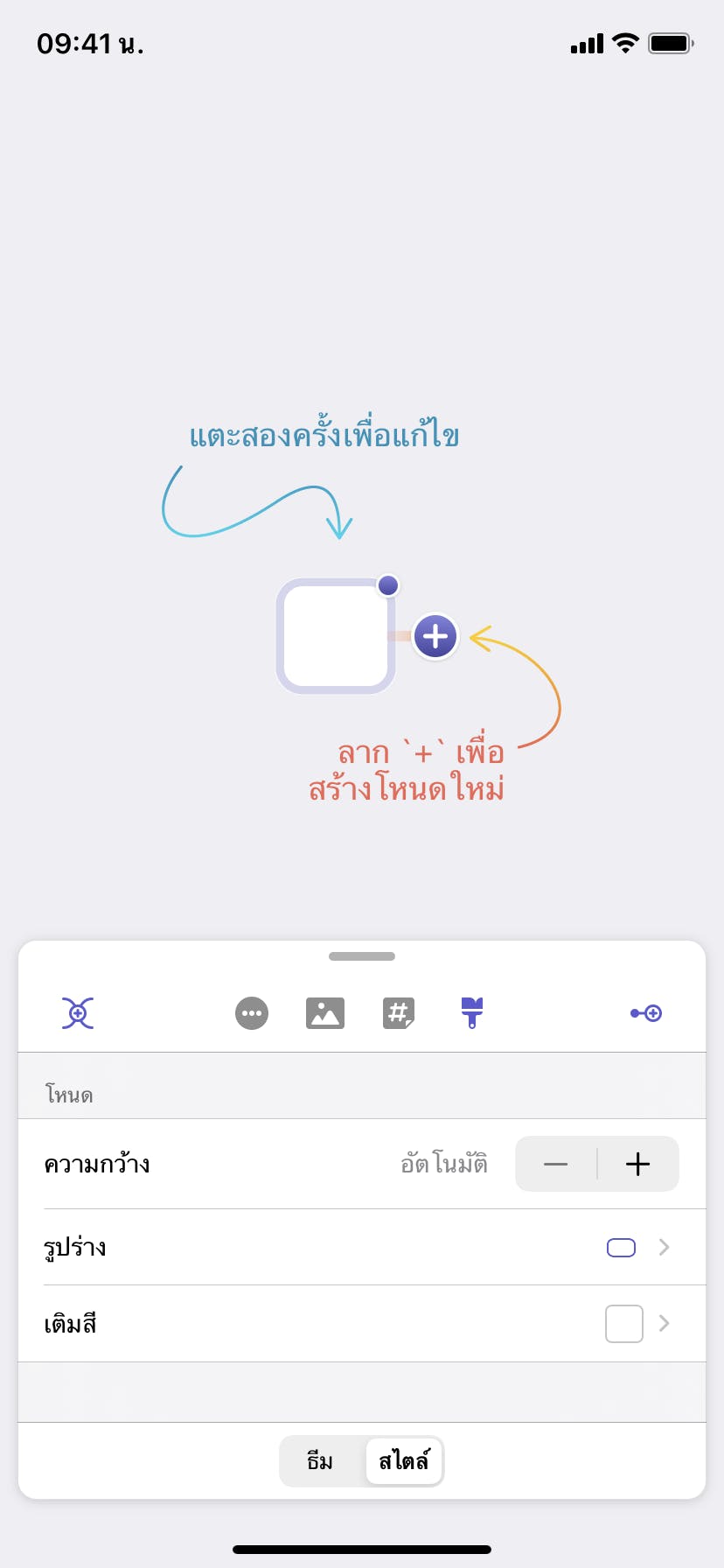 22. Keyboard Shortcuts
Much improved keyboard support. Every action can be triggered using a keyboard shortcut. There's a new unified shortcut for folding and unfolding. You can also move nodes with the keyboard, add and open text links. On the iPad, you can discover all shortcuts by holding the Command key.
23. Widgets
Use the new MindNode widget to access your recent and pinned documents directly from your Home Screen on iOS and your Notification Center on Mac.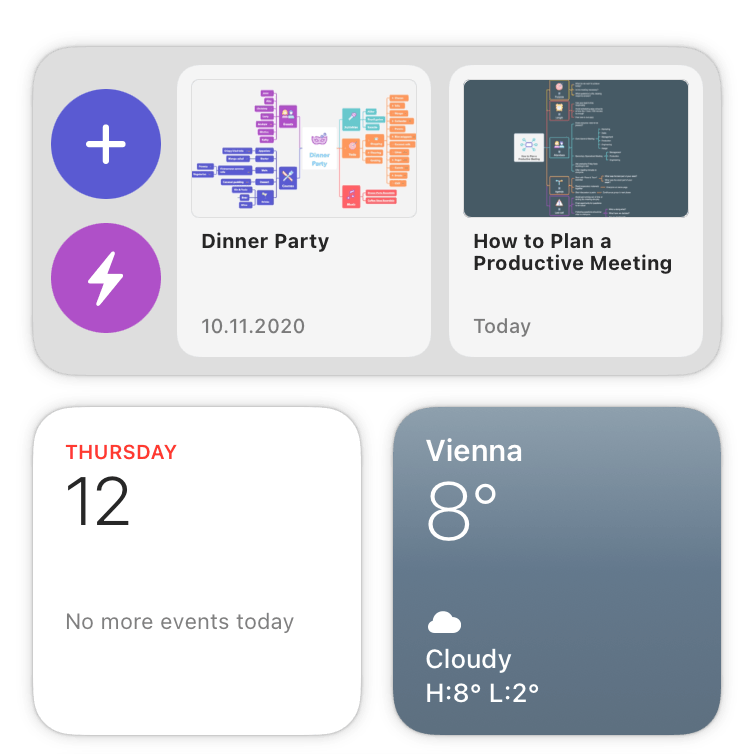 Mac:
24. Editable Outline
Capture your thoughts in a hierarchical form directly in the Outline. Add, remove, indent, and outdent Nodes. Rearrange your ideas by dragging and dropping. Edit your mind map and outline side-by-side.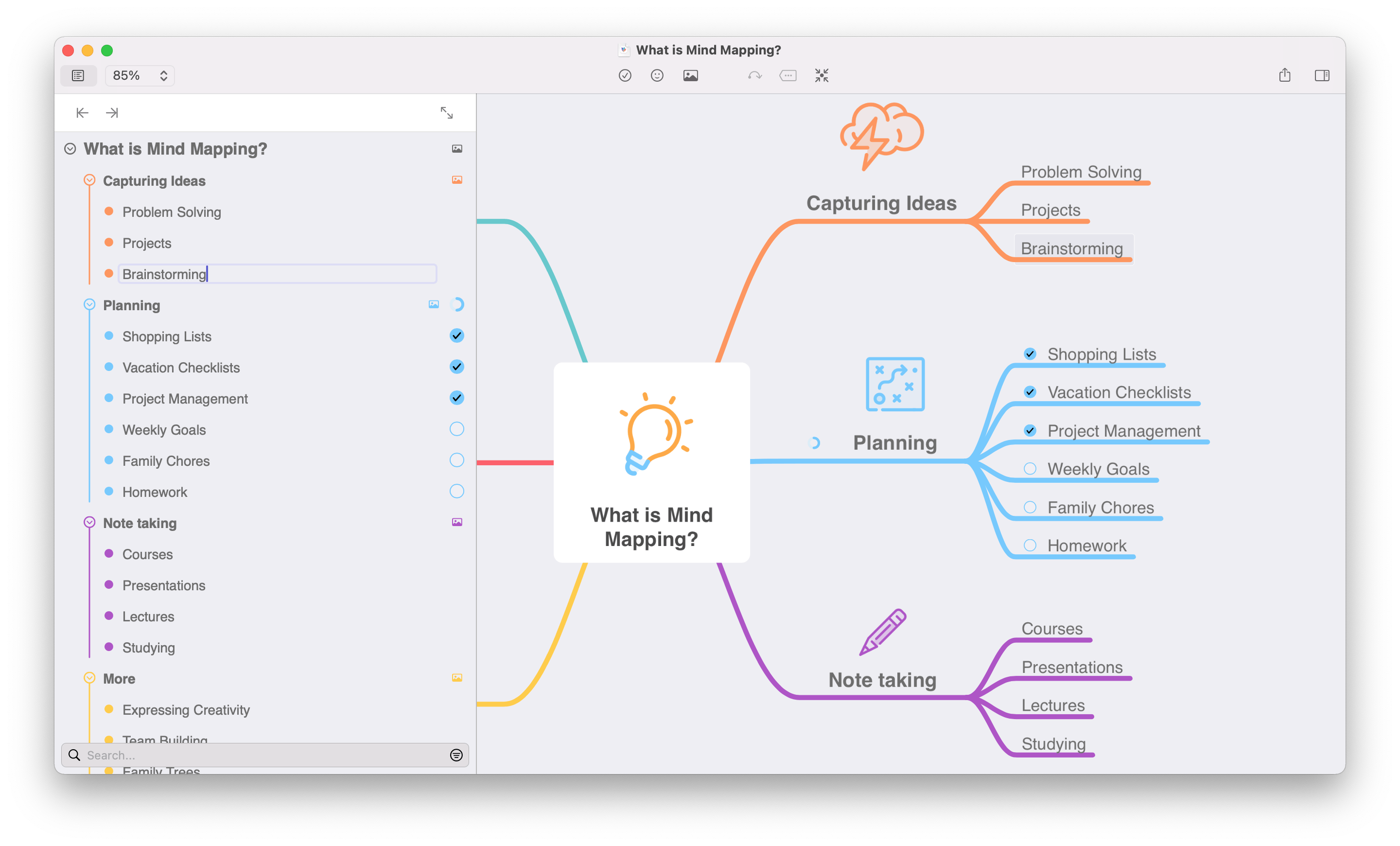 25. Continuity Camera
Use your iPhone or iPad to snap photos, scan documents, and import them directly into your document. For example, you can use Continuity Camera to add photos of presentation slides when taking notes or to add images when preparing for an exam.
26. New App Layout
Adopted a more traditional app layout to improve discoverability. Important actions are now in the toolbar and no longer hidden away in the sidebar. Customize the toolbar to better suit your needs. A new left sidebar hosts the outline and the new theme picker.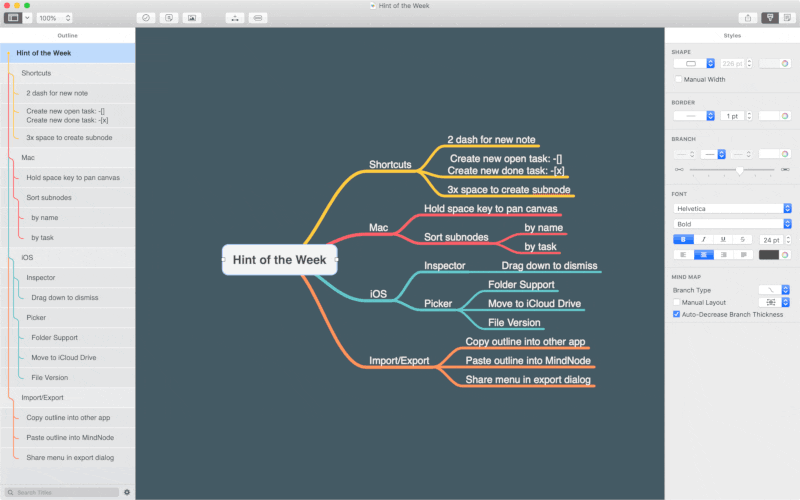 iOS:
27. Multi-Select
Styling, editing, and rearranging multiple nodes just got a whole lot easier. Select multiple objects by touching and holding anywhere on the canvas.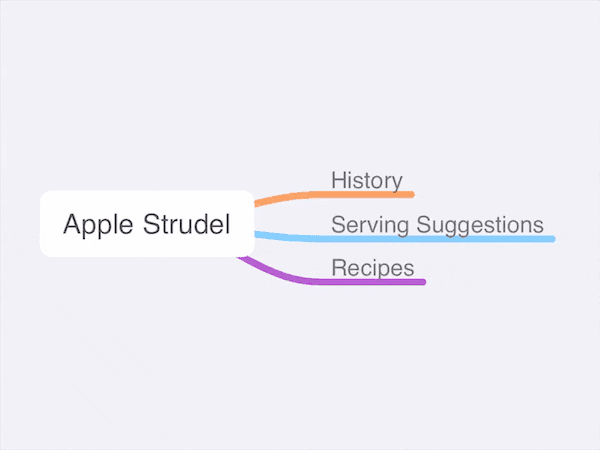 28. External Screen Support
Big ideas need space. With an external screen, you get a different perspective on your idea. Improvements include locking the viewport on the external screen, as well as viewing notes, and using Quick Look for images.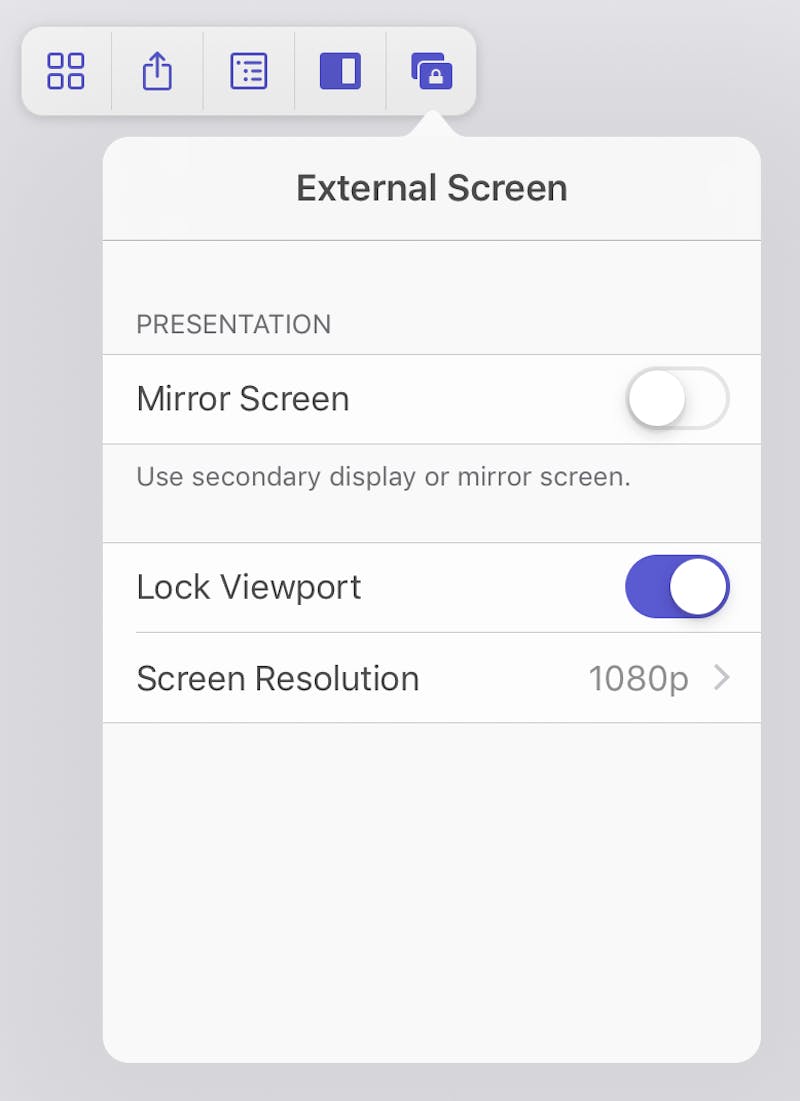 29. Floating Panels
All-new lightweight design is a perfect fit for the new design Apple introduced with iOS 11 and the iPhone X. Collapsed panels allow easy access to important shortcuts. Expanded panels host style, outline, and the all-new actions panel. The actions panel gives access to new and relevant actions like "Sort Subnodes Alphabetically", "Zoom to Fit", and "Add new parent node".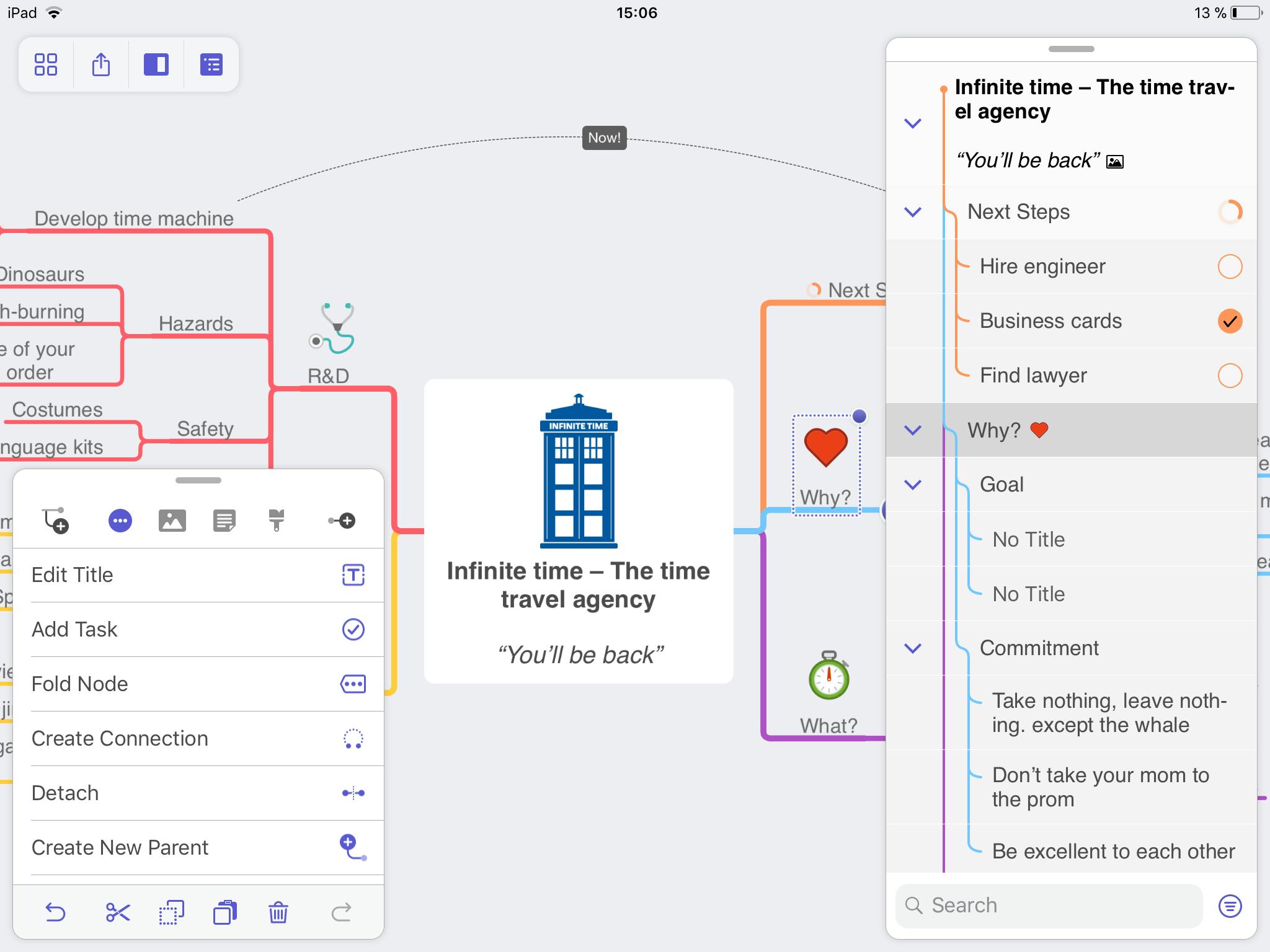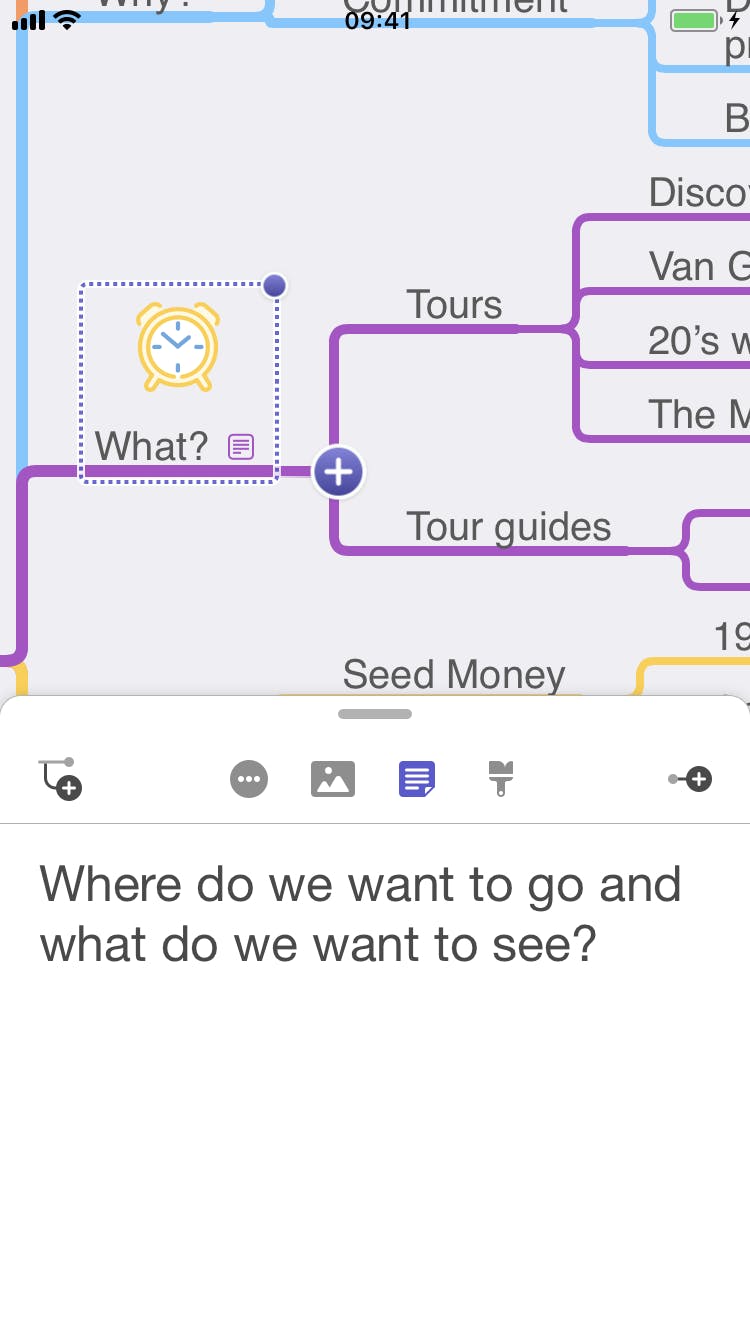 30. Customizable Panels
Make your workspace your own. Drag and drop your favorite actions onto the panel's quick actions. On iPad drag the panels to the other side of the screen.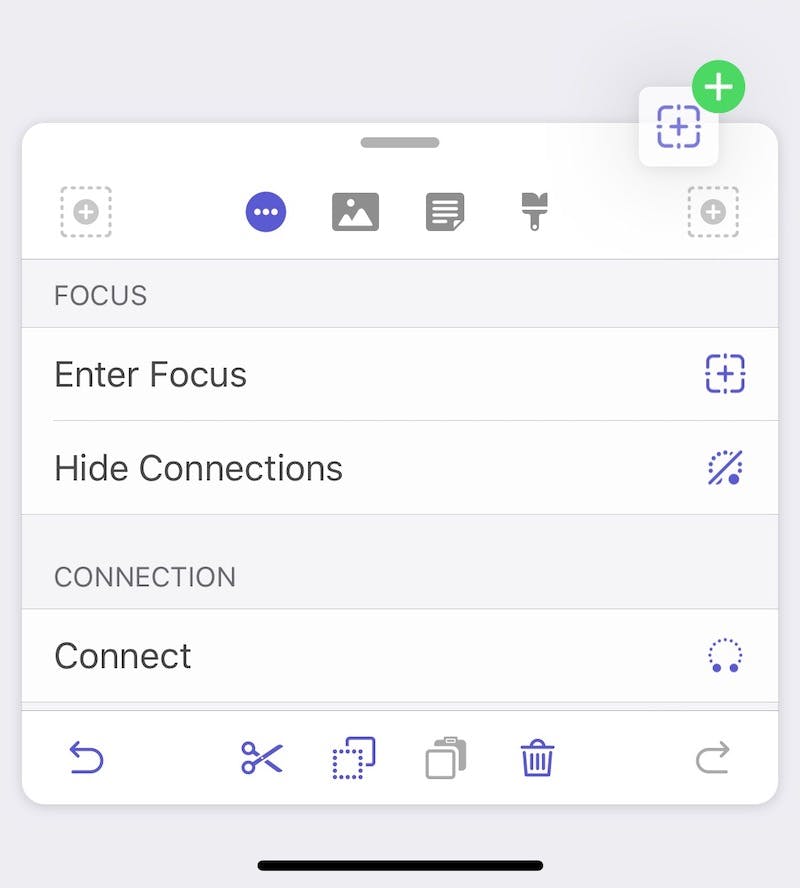 31. Multiple Documents
We've updated our iPad version to allow the opening of multiple documents. Open two MindNode documents side by side to work on them simultaneously.
32. New Document Manager
Open documents stored anywhere in iCloud Drive, create nested folders, and easily access documents from supported third-party document providers like Box or Dropbox.
33. Annotate Images
MindNode integrates with new iOS 13 Apple Pencil improvements. Add new drawings to your documents or annotate existing images. You can also take Full-Page screenshots using iOS' native Screen Capture tool (Press the Side/Top button and the Volume up button at the same time).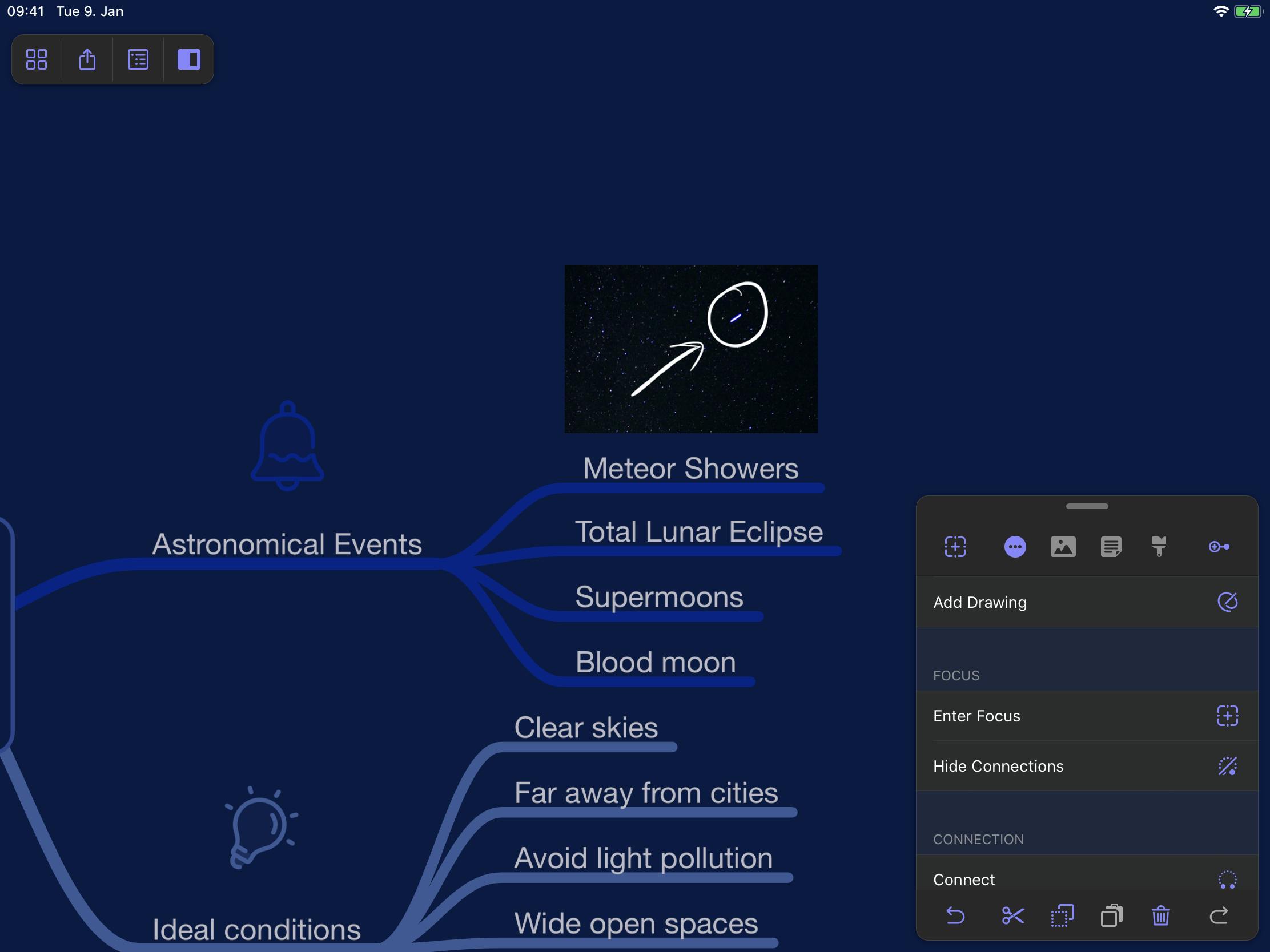 34. New Color Picker
Our brand new color picker gives you access to more colors than ever before and makes it easier to find related colors. Yes, you can now also select pink as a color.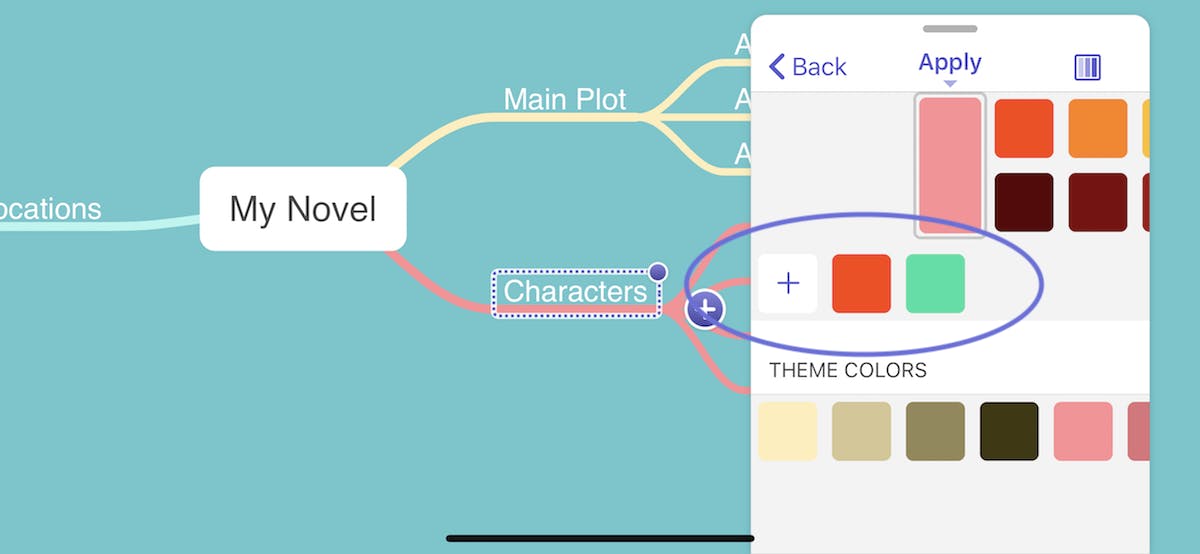 35. Fullscreen Mode
Switch to fullscreen mode to focus on your ideas even more, or to present your idea to your peers.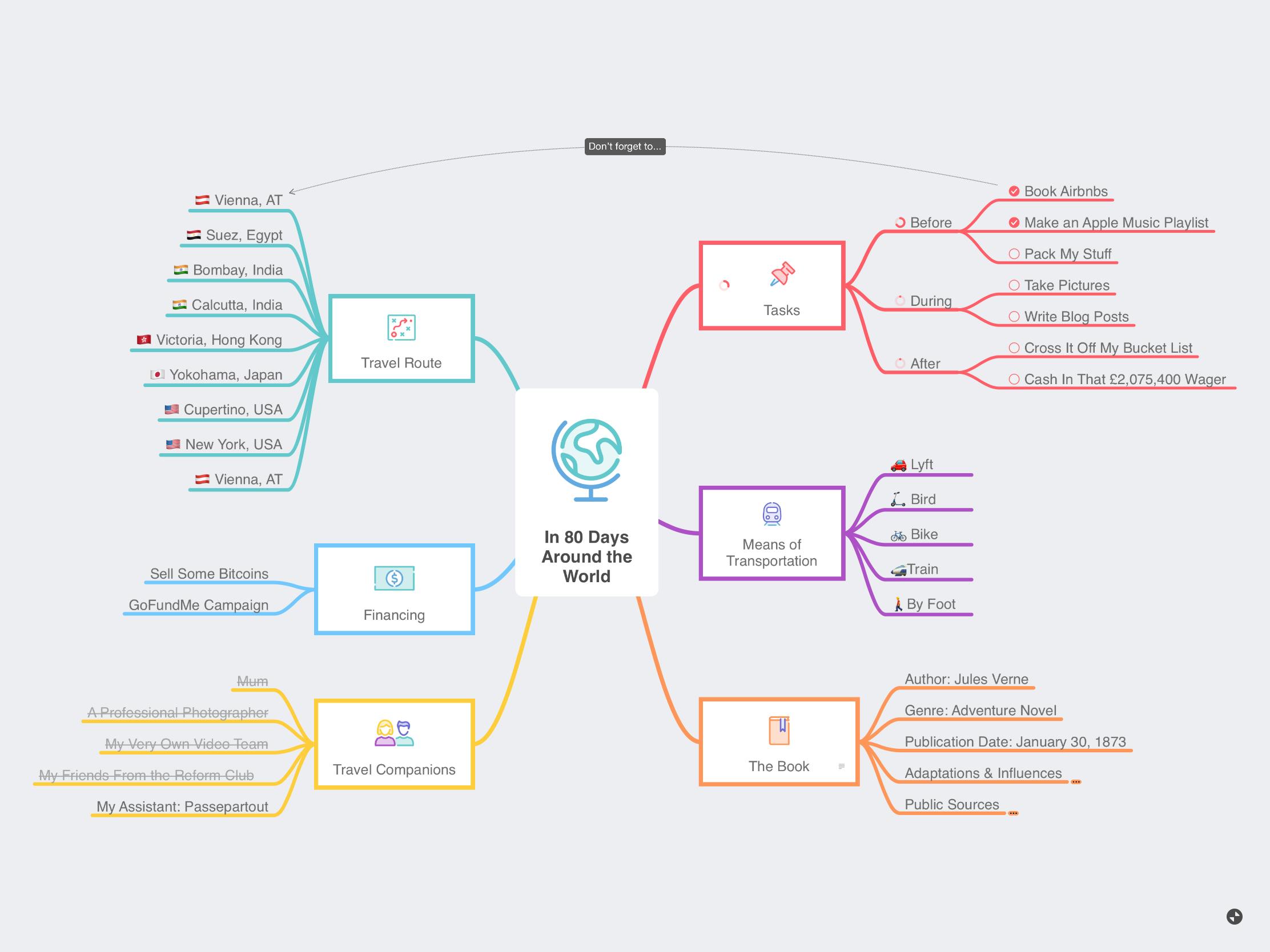 36. Custom App Icons
You can now customize the look of MindNode on your home screen. Change the app icon to a classic or more colorful icon in MindNode's Settings.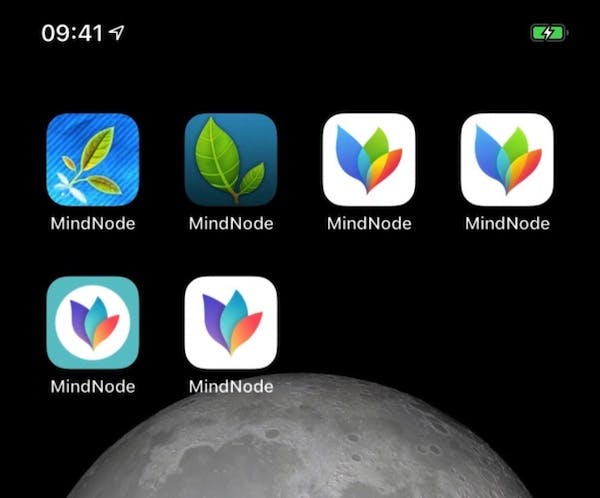 37. Siri Shortcuts
Launch Quick Entry or open your favorite document using your personal Siri Shortcut. Make MindNode part of your Siri Shortcuts workflow using new actions to import and export documents. With all-new URL-Schemes to import and export documents. Enhance your Shortcuts to automatically export documents to Reminders, Things, & OmniFocus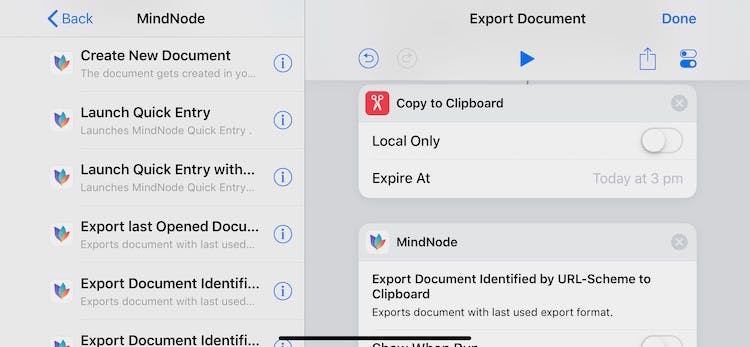 38. Scribble with Apple Pencil
Edit text with an Apple Pencil and handwriting detection, use the new image picker to easily add photos and instantly trigger actions with the new context menu.